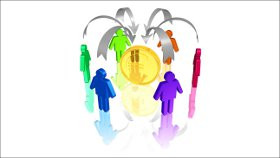 Please note that information on this funding programme is no longer up to date, as it has not yet been finalised in the new funding period. The information will be updated promptly when it is finalised.
COSME is the EU programme for the Competitiveness of Enterprises and Small and Medium-sized Enterprises running from 2014 - 2020 with a planned budget of EUR 2.3 billion.
The European Commission aims to promote entrepreneurship and improve the business environment for SMEs to allow them to realise their full potential in today's global economy.

COSME will support SMEs in the following areas:
Facilitating access to finance
Supporting internationalisation and access to markets
Creating an environment favourable to competitiveness
Encouraging an entrepreneurial culture
Expressions of interest
The Executive Agency for Small and Medium-sized Enterprises (EASME) manages COSME on behalf of the European Commission. Expressions of interest related to COSME can be found on the EASME website. Financial intermediaries can find more information on the calls for expression of interest on the COSME financial instruments page.
Source and further information