FORCuDE@BEV
BAVARIAN RESEARCH ASSOCIATION FOR CUSTOMIZED DIGITAL ENGINEERING FOR BAVARIAN SMES USING THE EXAMPLE OF THE DRIVE TRAIN OF BATTERY ELECTRIC VEHICLES

Working Group Data Driven Methods
The aim of the Data Driven Methods working group is to support the participating companies and partners in the network in the implementation of digital engineering methods and to adapt existing methods to special fields of application and the respective company structures and infrastructures (customization).
The participating subprojects SP 1, SP 2, SP 6 and SP 8 work together on a strategy for the identification of potential use cases, on first exemplary implementations and on the accompanying increase of acceptance.
SP 1 collects existing digital engineering methods with the focus on data mining. In first exploratory talks with selected industrial partners, it is important to identify where digital engineering methods can contribute to improvements in everyday industrial life.
SP 2 and SP 6 develop further digital engineering methods within the research network (prognosis of field test results based on test bench tests/simulations, virtual sensors by integration of meta-models or accompanying analytical calculations or finite element simulations). SP 1 supports all aspects of data mining and the evaluation of existing data sets.
Experience has shown that an accompanying increase in acceptance of novel methods is necessary for an implementation, since a successful implementation can never be achieved without the support of the employees involved. For this reason, SP 8 serves on the one hand as a support for this topic, and on the other hand it allows a direct exchange with the working group Requirements.
In this context, the development of a cross-domain usable application key for the use of digital engineering methods is substantial, which allows a context-sensitive adaptation to the individual application and the existing structure of the process/company.
Towards the end of the research network, the working group Data Driven Methods coordinates the execution of a usability study. The actual evaluation of the developed methods can only be carried out by the individual subprojects that have developed the methods. However, the Data Driven Methods working group provides an evaluation strategy in order to be able to compare the results of the usability studies of the subprojects and to ensure an evaluation of the transferability to other areas and/or domains.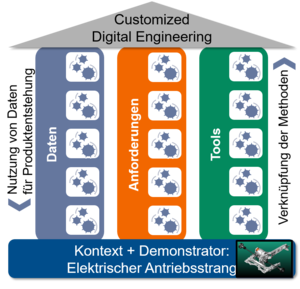 Projects
SP2 Data-driven linking of test bench and field trials
more
Information
Launching date
04.2020
End
03.2023
Funded by
Bayerische Forschungsstiftung