FOR-COVID
Bavarian consortium for research on the pandemic disease COVID-19 (FOR-COVID)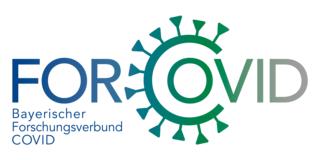 The association
At the beginning of January 2020, a number of patients with pneumonia of unknown aetiology was reported in Wuhan, Hubei Province, China. The outbreak was associated with a seafood market in Wuhan, where a novel coronavirus was identified as the etiological agent. Several independent research groups identified this novel virus as a member of the zoonotic coronavirus family with highly identical genome as a bat coronavirus, pointing to the bat as the natural host. The genomic sequences of the novel virus are almost identical and share about 80% sequence identity to a virus that emerged 17 years ago causing a "Severe Acute Respiratory Syndrome" called SARS-CoV. As a result, the novel identified virus has been classified as SARS-CoV-2. While the virus is likely originating from zoonotic coronaviruses, it adapted perfectly to humans and has spread rapidly worldwide, reaching a pandemic level in a short time.
The SARS-CoV-2 virus causes a disease, which is called coronavirus disease-19 (COVID-19) and shows a wide range of symptoms, ranging from asymptomatic/mild symptoms to flue-like symptoms and further to severe illness with progressive respiratory insufficiency requiring mechanical ventilation which can even trigger a multiple organ dysfunction syndrome.
2 years after the first report, SARS-CoV-2 and its new emerged, fast-spreading 'variants of concern' (VoCs - as the so-called alpha, beta, omikron variants) have caused millions of infections worldwide with a high mortality rate. Thus, COVID-19 has triggered enormous human casualties and serious economic loss posing global threat and a crucial test for the international solidarity of the world.
Quelle: Sequences are available at www.GISAID.org. Fig: Dr. Maximilian Muenchhoff, Max von Pettenkofer-Institut, Ludwig-Maximilians-Universität München (LMU). For enlargment of the figure please click here.
Also in Germany and Bavaria society, politics and science are facing completely new challenges in the SARS-CoV-2 pandemic. As a result and in an effort to face the pandemic and its major scientific questions, Bavarian universities and research institutes joined forces in the Bavarian research consortium 'FOR-COVID'. The research partners in FOR-COVID are international renowned scientists with expertise in virological diagnostics, the development of vaccines, the evaluation of virus specific immunity and the virus – cell interactions and the research in pathogenesis and therapy.
The mission of FOR-COVID is to contribute to the continuous international scientific efforts to combat COVID-19 and the pandemic. On the national level FOR-COVID will closely interact and join forces with the project groups of a Saxonian research network.
Information
Launching date
10.2020
End
12.2024