ForCYCLE Technikum
Project association "ForCYCLE Technikum"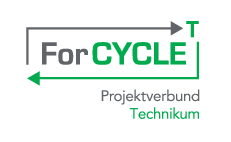 The association
Using existing resources intelligently and purposefully is essential for a sustainable circular economy. The project group "ForCYCLE Technikum" aims at transferring innovative and resource-efficient technologies in the Bavarian Economy.
Within the Centre for Basic Materials Efficiency (REZ) the new project group "ForCYCLE Technikum" contributes significantly to a sustainable circular economy and the protection of our natural resources. The project is embedded within the research and development field of the REZ in order to transfer knowledge and technologies into practice.
Milestones were already set for the expansion of resource competence in Bavaria with the "ForCYCLE I" project association in 2014 and "ForCYCLE II" in 2019. Practical research on the path to implementing environmental and circular economy technologies and processes are being further strengthened with the continuation of the successful ForCYCLE series. Thus the project series focuses on increasing resource efficiency in the Bavarian economy.
Five projects and an accompanying study are (further) developing resource-efficient and climate-friendly circular technologies and production processes for three years. The project group is financed by the Bavarian State Ministry of the Environment and Consumer Protection and coordinated by the Centre for Basic Materials Efficiency (REZ) in the Bavarian Environment Agency.
Information
Launching date
10.2022
End
09.2025