ForNeRo
Research network - Seamless and ergonomic integration of robotics into clinical workflow

The association
Robotic assistance systems (RAS) in medicine are already making an essential contribution to the care of the population, both in diagnostics and surgery. At the same time, they significantly impact clinical workflows and contribute to a substantial increase in technical, social, and organizational complexity in everyday clinical practice. The goal of ForNeRo is, therefore, to improve the integration of these systems into medical workflows without compromising clinic staff or the efficiency of established processes. The needs, skills, and requirements of the entire hospital staff are considered to achieve this.
Studies have shown that the lack of integration of RAS into surgical and diagnostic processes can lead to patient risk and increased process times. As a result, there is also limited use of RAS in everyday medical practice despite the benefits this technology offers for imaging and intervention. Improved process integration can only be achieved in close collaboration between researchers, medical users, and competent industrial partners.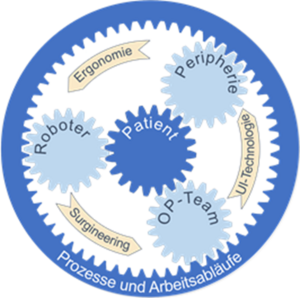 The ForNeRo project uses a broad range of methods. The possibilities of machine learning, augmented and virtual reality are used, as well as classical observation methods. The different subprojects of ForNeRo deal with modular robotic systems using the example of visceral surgery, micro-robotics (here, vitreoretinal surgery), and robot-assisted autonomous imaging. Based on our research, we develop new methods for digital OR planning and for the recognition of cognitive as well as physical stress of OR staff as well as concepts for the placement, integration, and user-related design of RAS.
These research goals represent essential key technologies for future digital medicine and robotic surgery. Through our work, we contribute to preserving and expanding Bavaria as a high-tech location and improving patient safety and quality of life.
For further information, please visit our project's website (German).
Information
Launching date
09.2023
End
08.2026
Funded by
Bavarian Research Foundation