FORobotics
mobile, ad-hoc cooperating roboter teams

The FORobotics-Testbed is ready
27/08/2019
With the Testbed in the Technologiezentrum, you have the possibility to test the mobile roboter platform in an industrial use case in a suitable environment. Furthermore you can get to know and try the innovative interaction technologies our mobile roboter is equiped with. Thereby the collaboration of roboter and human can become a succes.
Please contact us, if you have a possible use case for mobile robotics.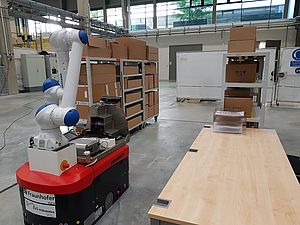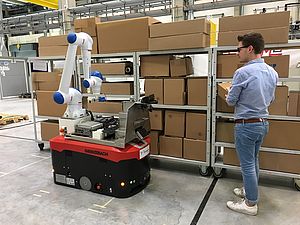 The pictures show the Testbeds: The mobile roboter equipped with a FTS (Grenzebach) and a Yaskawa HC10 Manipulator does intra logistic jobs in a high-bay racking. Additionally the roboter is equipped with interaction technologies.