ForInter
BAVARIAN RESEARCH ASSOCIATION INTERACTION OF HUMAN BRAIN CELLS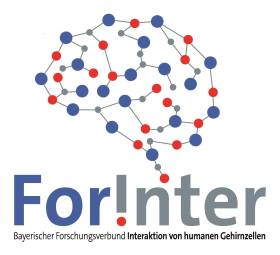 Dissecting the functional heterogeneity of human brain pericytes and their cellular interactions by employing 2D culture models and 3D organoid systems
Pericytes are endothelial-associated cells and together with neurons and astrocytes an integral component of the neurovascular unit.
We could show that the adult human brain harbors a cell population for which we can enrich in vitro and that indeed exhibits properties of pericytes. Following overexpression of the two neurogenic transcription factors Ascl1 and Sox2 we were able to directly reprogram these pericytes into induced neurons (Karow et al., 2012). In a recent study, we dissected the underlying molecular changes along the reprogramming process by using single cell RNA-sequencing. We thereby revealed that pericytes are a heterogeneous cell population with distinct reprogramming competence, and that the cells pass through a progenitor-like state prior to differentiation into induced neurons (Karow et al., 2018).
Our studies further strengthened the ultimate goal to use brain- resident pericytes as an endogenous source for cell replacement-based therapies for instance following neurodegeneration. Based on our previous data that revealed heterogeneity of adult human brain pericytes, we now follow the hypothesis that the transcriptional heterogeneity also entails a functional heterogeneity. In particular we aim at elucidating the impact of cellular interaction partners such as endothelial cells, astrocytes, and neurons on the pericyte function.
Project lead:
Dr. Sven Falk and Dr. Marisa Karow
Team:
Information
Launching date
03.2019
End
02.2023