ForInter
BAVARIAN RESEARCH ASSOCIATION INTERACTION OF HUMAN BRAIN CELLS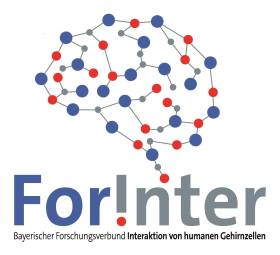 Role of oligodendrocytes in developmental disturbances of the brain and resulting diseases.
As myelin-producing cells, oligodendrocytes are essential for rapid conduction and information processing in the central nervous system. Oligodendrocytes are also in close contact and reciprocal communication with axons and thereby exert a substantial influence on neurons and the formation of neural circuits.

We postulate that global disturbances of brain development and ensuing human diseases such as autism spectrum disorders, schizophrenia and cognitive disabilities often have an oligodendroglial component.

To study this hypothesis, we will generate neural tissue culture models of Pitt-Hopkins and Siderius-Hamel syndrome. Among other malformations, both syndromes manifest with microcephaly and cognitive disabilities. They are caused by mutational inactivations of TCF4 and PHF8, respectively, as factors with transcriptional activity and expression in both oligodendrocytes and neurons. We will use CRISPR-Cas9-mediated genome editing in human induced pluripotent stem (iPS) cells to inactivate both genes und generate from these iPS cells genome edited human induced oligodendrocytes and neurons that we will compare in standard cultures and in 2D- and 3D-co-cultures to unaltered cells for their intrinsic properties and interactions. Additionally, we will combine in our co-cultures one cell type in genome edited version with the other in original, unaltered variant to study the consequences of oligodendroglial alterations on the neuron and vice versa. We will complement our studies by analogous experiments on mouse primary cell cultures to define similarities and divergences between mice and humans.
Project lead:
Prof. Dr. Michael Wegner
Institute of Biochemistry, FAU Erlangen-Nürnberg
Team:
Project partners:
Friedrich-Alexander-Universität Erlangen-Nürnberg
Information
Launching date
03.2019
End
02.2023