FORFLEX
BAVARIAN RESEARCH ASSOCIATION FORFLEX – SERVICE-ORIENTED IT-SYSTEMS FOR HIGHLY FLEXIBLE BUSINESS PROCESSES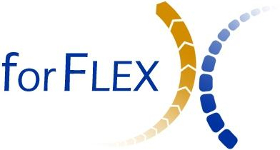 The association
forFLEX - Service-oriented IT-systems for highly flexible business processes
Business has to meet ever growing requirements for flexibility. Companies constantly adjust their efficiency and effectiveness. While conventional business processes reach a high degree of automation through the use of modern standard software, there is a deficit in the support of highly flexible business processes (hbp). Highly flexible business processes occur in different spheres – for example in medical health care when it comes to the cooperation of hospitals, medical practices and laboratories in medical care centres. Highly flexible business processes are context sensitive and can only be scheduled partially or in an ad hoc manner. Appropriate steering and automation of such processes can bring about strategic and competitive advantages for the companies concerned. At the same time, the development of the corresponding software represents a big challenge. To some extent, requirements to highly flexible business processes are only defined at the moment of their execution. Therefore, the chronological steps from process planning to execution become indistinct. This is why conventional standard software with its "hardwired" and preprogrammed behaviour variations comes to its limits here.
Highly flexible business processes require a dynamic and extensible behaviour repertoire from their supporting IT-systems. There is a high need for research and development with regard to the requirements, structural and behaviour properties of highly flexible business processes and their software support. The Research Association forFLEX has ist focus on that need. It shall examine and use the potentials of service oriented IT-systems as key technology for the flexibilisation of business processes. To this end, scientists of forFLEX research applicable forms and degrees of automation of highly flexible business processes.
The research project forFLEX comprises three parts that are related one to another.
Homepage: <link http: www.forflex.de index.php en.html>www.forflex.de/index.php/en.html
Information
Launching date
06.2008
End
03.2012