FORFLEX
BAVARIAN RESEARCH ASSOCIATION FORFLEX – SERVICE-ORIENTED IT-SYSTEMS FOR HIGHLY FLEXIBLE BUSINESS PROCESSES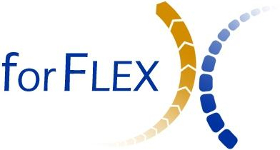 Sub-project 3 (Bartmann): FLEX.OptSec
Simulative Evaluation of highly flexible business processes
The issue of quality assurance is one important aspect of modelling of highly flexible business processes. Very often, processes are not completely or even incorrectly specified, so that competent departments are not satisfied with the newly modelled processes and the expected advantages of new processes fail to materialize. Therefore, this sub-project aims at creating methods and instruments to allow for finely adjusted process simulations already during the modelling phase. Thus, modelling bugs can directly be detected and deleted. A formally correct representation of the process that is also loadable to a workflow-engine will be produced.
Infrastructures for Authorisation and Authentication
IT-Security services for highly flexible business processes can only be realised across companies when the "trust chain" has appropriately been modelled. Staff of different medical practices, for instance, will access the same electronic patient database. By doing so, additional problems regarding password protection will occur. In general, password policy and the degree of strict observance differ in every company involved into the workflow process. This leads to security issues. Remedy is offered by authorisation and authentication infrastructures (AAI) that work with two-factor security systems, using biometric procedures in addition to password security. The integration of biometry into AAI, however, entails specific problems that have not yet been solved (ageing process of biometric characteristics, ambiguousness). The task of this sub-project is to find and test feasible approaches to solving these problems.
Sub-project 3: FLEX.OptSec (Bartmann, University of Regensburg)