BayFORREST
BAVARIAN RESEARCH ASSOCIATION FOR WASTE MANAGEMENT AND RECYCLING RESEARCH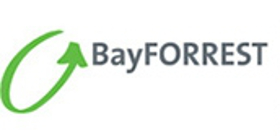 F158 Exothermal reactions in MSWI bottom ash landfills
Field of work:
(2) Material flux management
Two vertical temperature sensor fields were installed in a municipal solid waste incinerator (MSWI) bottom ash landfill. Temperature development was observed from the beginning of deposition. Field investigations showed temperatures up to 87 °C. Temperature development depends on the surface-to-volume ratio in the landfill. In order to verify the correlation between temperature development and alteration processes, bottom ash was investigated by different chemical and mineralogical methods. The following alteration processes were observed: dissolution/precipitation, glass corrosion, hydration and oxidation reactions, slaking of lime, cementation and carbonation processes.

Issues of future research:
The extracted drilling cores should be characterised by chemical and mineralogical methods. In addition, further drillings, gas measurements and microbiological studies are important. In order to transfer the reactions to a laboratory scale, additionally container measurements are to be undertaken. According to the produced data, a thermal and material balance must be developed. With regard to a validated TASi concept, it is essential to observe the covered landfill.

Application:
Based on this investigation, recommendations on storage conditions and a risk estimation before utilisation should be given.
Grant-aided by:
Bavarian State Ministry for Environmental Affairs and Consumer Protection