ForInter
BAVARIAN RESEARCH ASSOCIATION INTERACTION OF HUMAN BRAIN CELLS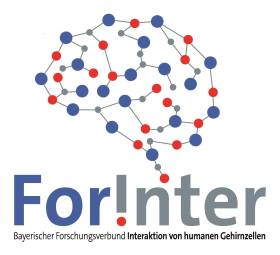 Legal and ethical issues concerning research on, and application of, brain cells derived from genome edited IPSCs
Objectives:
(1) Comprehensive analysis of the legal framework for current and future possible or conceivable scenarios concerning research on brain cells derived from genome-edited IPSCs and their therapeutic use,
(2) where appropriate, elaboration of proposals for amendments to the legal framework,
(3) prospective investigation of fundamental normative questions of brain organoid research and brain cell therapy.

The applicability of the German Genetic Engineering Act for genome editing of (brain) cells in vitro will be examined. In addition, legal aspects concerning the use of (brain) cells are clarified. In particular questions concerning the existence and scope of rights (e.g. of patients) to determine the use of (brain) cells by virtue of ownership and/or personality rights. Questions concerning the scope of informed consent are addressed as well. Furthermore, data protection law problems must be overcome with regard to (epi-)genetic data analyses. Moreover, the legal framework applicable to combined cell/gene therapies with regard to possible future transplantations of genome-edited brain cells will be outlined. Additionally, as far as possible, insights shall be gathered from foreign legal systems as well as relevant ethical discourses.
In the therapeutic context, the question of 'enhancement' will arise, i.e. the demarcation between enhancement and therapy, but also fundamental ethical and legal objections to enhancement. Finally, fundamental normative questions are raised and answered which could arise from future research on brain organoids in vitro, e.g. whether certain brain organoids should be granted a status (of protection), which could exclude or restrict the use of such entities.
Project lead:
Prof. Dr. jur. Hans-Georg Dederer
Faculty of Law, University of Passau
Team:
Project partners:
Information
Launching date
03.2019
End
02.2023