ForInter
BAVARIAN RESEARCH ASSOCIATION INTERACTION OF HUMAN BRAIN CELLS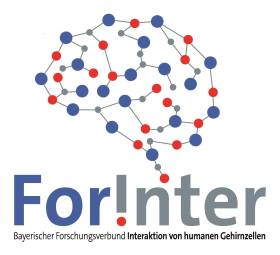 Reconstructing microglia interactions in 3D brain organoids using single-cell genomics

Microglia regulate diverse aspects of brain homeostasis during development and disease, including cell death regulation, axonal outgrowth control, synapse pruning, and debris engulfment (Butovsky and Weiner, 2018; Li and Barres, 2018). However, it is unclear how these processes are regulated in the developing human brain, and how mutations in microglia expressed genes can impact early brain development.
Over the past years, protocols have been developed to generate human microglia from induced pluripotent stem cells (iPSCs) in two-dimensional (2D) cultures, and to independently build complex three-dimensional (3D) tissues that lack microglia, but otherwise recapitulate the development of multiple brain regions. By combining human microglia and 3D cerebral organoid culture technologies, it is now possible to probe how microglia and other cells communicate during brain development. Single- cell genomic methods are providing new high-resolution tools to understand developmental processes in complex multilineage environments.
We hypothesize that microglia dynamically regulate their transcriptome in response to the 3D microenvironment of the developing brain, and this regulation is critical for microglia functions in these environments. Here we will test this hypothesis using high- resolution single-cell (sc) genomic methodologies.
First, we will assess the accuracy and efficiency of microglia differentiation from pluripotency by analyzing cell heterogeneity and reconstructing trajectories over the differentiation time course in 2D monocultures using scRNA-seq. Second, we will colonize 3D cerebral organoids with microglia and use scRNA-seq to dissect potential crosstalk between microglia and other cells within the 3D microenvironment. Finally, we will use CRISPR/Cas9 and single-cell genomic screens to perturb neuron-microglia interactions in mosaic organoids.
Our project provides an exciting, quantitative direction to dissect the genetic programs that regulate microglia interactions in the developing human brain.
This study is a joint project between the ETH Zurich and ForInter and is conducted at the Department of Biosystems Science and Engineering.
Projectlead
Team
Project partners:
ETH Zurich

Department of Biosystems Science and Engineering, Basel (D-BSSE)
Information
Launching date
03.2019
End
02.2023