FORKAST
BAVARIAN RESEARCH ASSOCIATION "CLIMATIC IMPACTS ON ECOSYSTEMS AND CLIMATIC ADAPTATION STRATEGIES"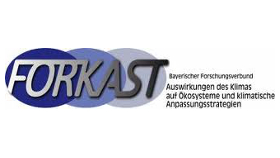 TP5 Investigation of carbon turnover in grassland sites in Northern Bavarian low mountain ranges under extreme climate conditions
Grassland in low mountain ranges is increasingly considered as important carbon storage. The behaviour of this storage as well as carbon fluxes between atmosphere, biosphere and soil are to be investigated especially under extreme weather conditions (droughts), which are expected to occur naturally during the two year period of research or are otherwise induced artificially.
We expect plant specific changes in photosynthetic activity and modified assimilate translocation characteristics from the leaves into roots and soil. Detailed information about the reaction of different plant species allows predicting the stability and resilience of plant species composition in grasslands, under the influence of extreme climate conditions. After all, the final step is the development of adequate adaptation strategies.

Grant-aided by:
Bavarian State Ministry for Science, Research and Arts
Information
Launching date
01.2009
End
12.2012