Background of the scientific cooperation Bavaria-Alberta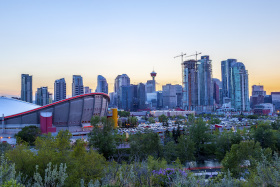 In contrast to the multi-year cooperation between Bavaria and Québec, which progresses within a fixed framework of institutional cooperation, the scientific-technological dialogue with Alberta is only in its initial phase. Nevertheless, in strategic sectors such as energy, information and communication technologies (ICT), and life sciences, both joint research interests as well as complementary approaches are already available in many different ways.
This dialogue started in the context of the delegation-trip, initiated by Vice Minister Hans Spitzner, to Alberta in 2007. In addition to representatives from politics and economics, seven scientists from Bavarian universities and research centers took part in the trip. In discussions with scientists from Alberta, it was possible to line up bi-lateral research cooperation projects, which still exist. Regular student and faculty exchanges between universities in Bavaria and Alberta were increased.
During the delegation trip led by Vice Minister Katja Hessel in 2011, a first cross-disciplinary scientific network called ABBY-Net arose that is evaluating the co-evolution of energy systems and ecosystems. Together, the members of this network want to take part in international cooperative research efforts with partners from industry.
The 5th of June 2013 Minister Dr. Wolfgang Heubisch and the Honourable Thomas Lukaszuk, Deputy Premier of Alberta, Minister of Enterprise and Advanced Education signed a Letter of Intent in Research and Technology.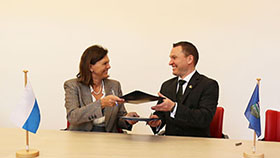 On the 23rd October 2017, the Bavarian gouvernment and the gouvernment of the Province of Alberta signed a joint extended declaration to strengthen their cooperation in research and innovation.
On behalf of the Bavarian State Chancellery, the Scientific Coordination Office of the Bavarian Research Alliance supports the development of mutual research projects.