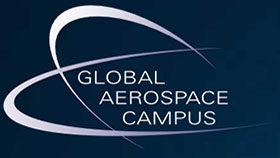 Aerospace is a key economic driver, and a research priority in the RLS regions. Worldwide, the field is extremely competitive. Continuous innovation is required to remain operational under increasing financial and environmental constraints. Qualification of the workforce has proven to be of crucial importance. Different teaching approaches exist in the RLS group. There is a strong understanding among the RLS partners that sharing this regional expertise in teaching aerospace can lead to enhanced teaching and training programs that will benefit all RLS regions.
With the Global Aerospace Campus, its scientific events and its planned range of online courses, the seven strong partner regions provide access to existing expertise in the field of aerospace and, in this way, promote regional research and educational activities. Developing an RLS Aerospace Online Study Programme with attendance phases, establishing an alternating Global Aerospace Summer Event and offering a global exchange and mobility programme for students and professors including internships with industrial partners are the long-term prospects of the Global Aerospace Campus.
In order to strengthen the specialized training of aerospace engineers, researchers, and experts from industry are coming together to build a training alliance with virtual and in-person components. The Global Aerospace Campus improves the visibility of aerospace research activities within the RLS network and internationally, helps releasing research results much broader and reduces the distance between teaching and research. The share of virtual classes can overcome the distance and provides continuity. The blended-learning concept provides in-person teaching modules around joint summer events and multilateral internships that will help to evaluate the needs and potential of the RLS network.
Read more on the RLS-Sciences website: www.rls-sciences.org/aerospace.html and on the project website: www.global-aerospace-campus.org.