[Translate to Englisch:] Chances and Challenges: The EU Green Deal and its Role for Research & Innovation (15. September 2020)
14/09/2020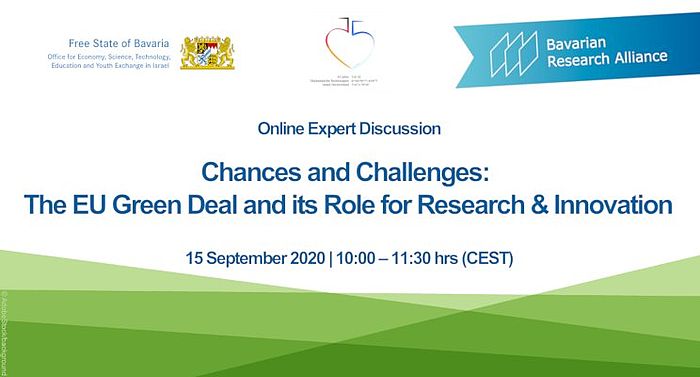 Together with the German Embassy in Israel and the Office of the Free State of Bavaria in Israel, the Scientific Coordination Office (WKS) Bavaria-Israel of the Bavarian Research Alliance (BayFOR) is organising an expert discussion on 15 September 2020 to discuss the special opportunities and challenges of the EU Green Deal Call from different perspectives.
The panel will include the Director of the Israel-Europe R&D Directorate (ISERD), Nili Shalev, Bernd Biervert from the European Commission's Directorate-General for Research and Innovation, Prof. Andrea Büttner, Managing Director of the Fraunhofer Institute for Process Engineering and Packaging IVV, Prof. Ernst R. Tamm, Vice President Designate for Research at the University of Regensburg and Prof. Masha Niv, Vice Dean for Research at the Faculty of Agriculture, Food and Environment of the Hebrew University of Jerusalem.
As part of the EU's Horizon 2020 research framework programme, the European Green Deal Call has a budget of 1 billion euros and is made up of a total of 11 topic areas, which together are intended to support the implementation of the European Green Deal. For research performing institutions in EU Member States and associated partner countries, this includes new opportunities for joint R&I cooperation and at the same time provides an insight into such thematic fields that will also play a central role in the upcoming EU research framework programme Horizon Europe.