Online Expert Discussion "Adaptation to Climate Change and the Role of Research and Innovation: How to strengthen Climate Resilience in Israel and the EU" on October 20, 2022 at 10:00-11:30 (CEST)
21/09/2022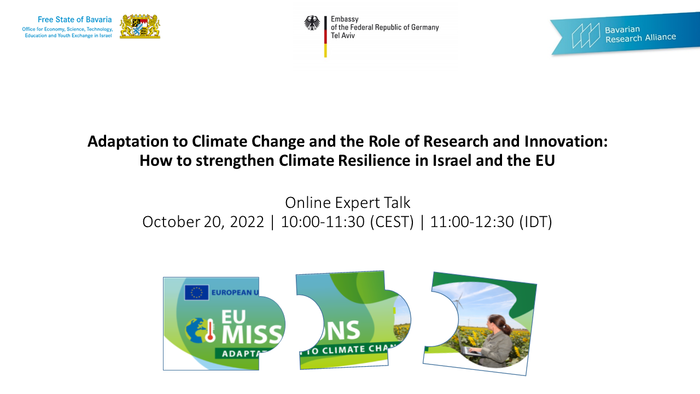 The event focuses on the EU Mission "Adaptation to Climate Change" and presents different perspectives to shed light on the specific chances and challenges of this mission. A special emphasis will be put on the role of research and international cooperation and the different experiences in Israel and the EU regarding climate resilience.
The expert discussion is joined by Prof. Noga Kronfeld-Schor, Chief Scientist of the Ministry for Environmental Protection of Israel, Prof. Miranda Schreurs, Technical University of Munich, Uwe Kippnich, Coordinator Security Research of the Bavarian Red Cross, Dorit Banet, CEO of the Eilat-Eilot Renewable Energy Initiative, and Federico Porrà from the Directorate-General for Research and Innovation of the European Commission.
The EU Mission "Adaptation to Climate Change" addresses current challenges and pursues ambitious goals as climate change is already taking its toll in Europe and beyond. The frequency and severity of climate and weather extremes is increasing, which emphasizes the need to speed up the development of new solutions for a better climate resilience.
The Mission "Adaptation to Climate Change" aims to support at least 150 regions and communities in accelerating their transformation towards climate resilience by 2030. The EU will allocate €370 million of Horizon Europe funding to the Mission "Adaptation to Climate Change" until 2023, in order to support research projects which help strengthen climate resilience with innovative solutions.
Event time
October 20, 2022, 10:00-11:30 (CEST) / 11:00-12:30 (IDT)
Format
The event will be held online via webex.
Language
English
Agenda
Please find the agenda here.
Registration
Please register here.
Participation fee:
The event is free of charge.
Organizers:
Steven Schmerz
Managing Director
Office for Economy, Science, Technology, Eucation and Youth Exchange of Bavaria in Israel
Phone: +972 3 - 3095841
E-mail: steven.schmerz@no-spam-pleaseinternationaloffice.com
Barbara Seimetz
Head of Department of Science & Environment
German Embassy Israel
Phone: +972 3 6931 336
E-mail: wiss-1@no-spam-pleasetela.diplo.de
Dr. des. Anna Abelmann-Brockmann
Senior Scientific Coordinator
Scientific Coordination Office Bavaria-Israel
Phone: +49 (0)89 - 9901 888 - 166
E-mail: abelmann@no-spam-pleasebayfor.org