"Dinner for (every)one?" Foodtech strategies in Israel and the EU and the Role of Research and Innovation; Online Expert Talk October 16,2023 | 10:00-11:30 (CEST)
12/07/2023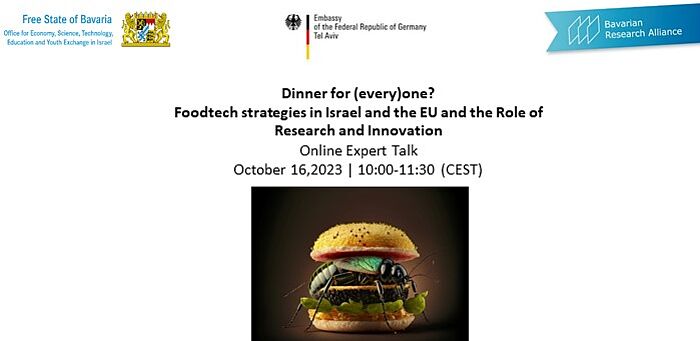 The production processes of food to feed a growing world population are currently largely unsustainable. As a result, they are drivers of climate change, environmental damage, biodiversity loss and resource scarcity and suffer equally from these factors and their consequences. Against this background, a change towards a resilient and ecologically, socially and economically more sustainable food production system is inevitable in order to ensure healthy nutrition for all people in the long term.
The digital panel of experts will focus on this topic and its challenges and discuss various innovative solutions and development strategies against the background of different experiences from Israel, Germany and the EU.
The event will be opened with a welcoming note by the Ambassador of the Federal Republic of Germany to Israel, H.E. Steffen Seibert and the Ambassador of the Delegation of the European Union to Israel, H.E. Dimiter Tzantchev. This will be followed by an introduction by Karen Fabbri, Deputy Head of Unit in DG Research and Innovation of the European Commission. The discussion panel will include Alla Voldman, VP of the Good Food Institute Israel, Prof. Stephan Schwarzinger from the University of Bayreuth, Shlomi Kofman, CEO of the Israel-Europe R&D Directorate and Dr. Christina de Wit from the Federal Ministry of Education and Research.
Date and Time
Thursday, 16 October 2023, 10:00 – 11:30 (CEST)
Venue
The event will take place online via Webex
Language
The event will be held in English.
Registration and Participation Fee
The event is free of charge. You can find the registration link here.
Further Information
The agenda can be found here.
Contact at BayFOR

Dr. Anna Abelmann-Brockmann
Scienific Coordinator Bavaria-Israel
Scientific Coordination Office Bavaria-Israel
Phone: +49 89 9901888-166
E-Mail: abelmann@bayfor.org