International networking event: "Guaranteeing Food Security through AI" in Kulmbach
25/07/2023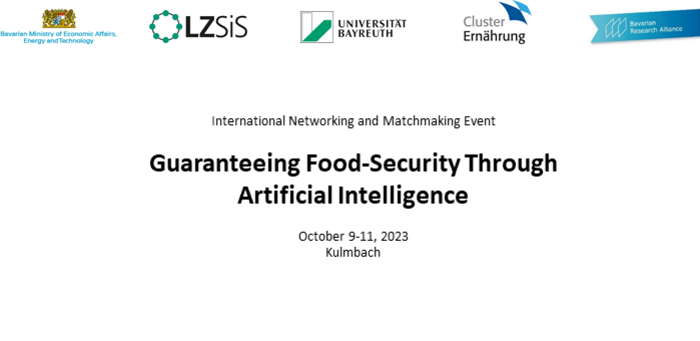 Ensuring food security for our global community is one of the key challenges of today. At the same time, the importance of Artificial Intelligence in this field is growing and its contribution can be crucial for the development of efficient and innovative solutions in the future.
Against this background, the Bavarian State Ministry of Economic Affairs, Energy and Technology, together with the LZSiS of Fraunhofer EMFT, the University of Bayreuth, the Bavarian Research Alliance and the Cluster Ernährung invites stakeholder from the field of FoodTech/Food security and AI (R&D driven SMEs, industrial partner, scientific institutions) to a three-day event in Kulmbach, which will include a visit tour of local industries from the fields of FoodTech and food safety as well as a workshop day to develop new cooperation ideas.
The event is aimed in particular at SMEs, industrial partners and scientific institutions from the fields of FoodTech, food safety and artificial intelligence from Bavaria, Israel, the United Arab Emirates and Morocco.
Date and time
09-11 October, 2023
Venue
Plassenburg Castle in Kulmbach and University of Bayreuth - Campus Kulmbach
Language
The event will be held in English
Registration and participation fee
You can find the registration form here. Participation is free of charge.
Further Information
The preliminary Agenda can be found here.
Kontakt at BayFOR

Dr. Anna Abelmann-Brockmann
Scienific Coordinator Bavaria-Israel
Scientific Coordination Office Bavaria-Israel
Phone: +49 89 9901888-166
E-Mail: abelmann@bayfor.org