Connecting Europe Facility (CEF2) Transport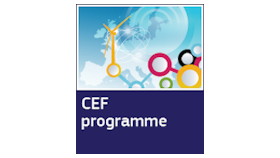 Connecting Europe Facility (CEF2) Transport bolsters investments in high-performance and well-connected transport infrastructures to improve trans-European transport networks (TEN-T), which are central to the competitiveness, growth, employment and prosperity of the European Union, over the period 2021-2027. In addition, this funding period is characterised by a strong focus on measures to promote sustainable mobility and support the goals of the Green Deal, for example, with funding for the decarbonisation of transport such as a European network of charging infrastructures for alternative fuels and a prioritisation of environmentally friendly means of transport. A new feature of this funding period is the support for military mobility.
Focus areas of Connecting Europe Facility (CEF2) Transport
The Trans-European Transport Networks (TEN-T) consist of two layers, a comprehensive network and a core network. The core network should be completed by 2030 at the latest and the comprehensive network by 2050. Nine corridors form the core network, which represent the most important long-distance routes of the internal market. Six of these corridors alone run through Germany. CEF2 Transport focuses on the following areas:
Main funding instrument of Trans-European Transport Networks (TEN-T)

Elimination of bottlenecks

Improvement of rail interoperability

Bridging of missing connections

Improvement of cross-border connections

Securing of long-term sustainable and efficient transport systems

Optimisation of the integration and interconnection of means of transport

Improvement of the interoperability of transport services
Budget of Connecting Europe Facility (CEF2) Transport
CEF2 Transport has a budget of EUR 25.8 billion. Of this amount, EUR 11.29 billion is available for cohesion countries and EUR 1.69 billion for military mobility.
Conditions of participation
In order to achieve the objectives of CEF2 Transport, calls for tenders are published for which both public and private institutions can apply with their project ideas and receive financial support from the EU upon successful application. Funding is generally provided through (investment) grants. Funding in Germany is possible up to a maximum of 50% of the costs. You can find potential tenders here.
Video about CEF2 Transport:
Check out the CEF2 plans in the following video:
You have an idea for a funding application in the Connecting Europe Facility (CEF2) Transport program and need support? Contact the Unit ICT, Engineering & Natural Sciences of the Bavarian Research Alliance, we will be happy to help you:

Dr. Nico Riemann
Deputy Head of Unit and Scientific Officer Information & Communication Technologies |
Engineering & Natural Sciences
Phone: +49 911 50715-910
Email: riemann@bayfor.org, harwin@bayfor.org