Comprehensive advisory services on EU funding programmes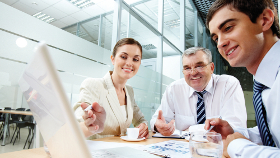 We connect Bavarian stakeholders from science and industry at European level and support them with a free advisory service when applying for EU funding for research and innovation projects. The focus of attention is the European framework programme for research and innovation "Horizon Europe". The advisory service addresses the following questions among others:
Which programme is suited for your project idea?
With a budget of around 95.5 billion euros, spread over seven years, Horizon Europe is the largest funding programme for research and innovation globally and covers the entire range of scientific disciplines. Thus, the possibilities for applicants are diverse. In addition, however, there are many other, smaller funding programmes, which may be more suitable for your project idea.
Our scientific officers can assess your project idea and advise you in detail about the various options. This will allow you to find the funding programme that best suits your project and thus increase your prospects for success.
Which calls for proposals are especially interesting for your topic?
We will help you identify the calls for proposals that are best suited for your project (call matching) and support you in formulating your project idea, and also adapting it if necessary, so that it meets the requirements of the specific call for proposals.
What are the formal requirements?
Who can submit an application? What is the funding rate? Which chapters should be included in an application? Are there budget limits? Is co-financing required?
Our funding advisory service provides you with answers to these and other questions. We will also be pleased to assist you in preparing your application.
What is the best way to set up a consortium in order to have a realistic chance of funding?
Building a competitive consortium is essential for tackling optimally the tasks required in a call for proposals and thus represents an important success factor for the evaluation of the application. Depending on the call for proposals, different parameters have to be considered, ranging from the type of project partner and their respective competences through to their geographical foothold and the general size of the consortium. We advise you on how to set up a powerful and effective consortium.
Where can I find suitable project partners?
We will inform you about the different possibilities for finding international partners for current projects or for building up a good network of potential cooperation partners in the medium term. We will also be pleased to support you in actively seeking (international) project partners.
Where are there good opportunities for small and medium-sized enterprises or universities of applied sciences in particular?
Renowned universities, non-university research organisations and major industries can usually find their way around EU funding more easily. However, other stakeholders who do not necessarily have the same experience and/or staffing are also well catered for in terms of programmes or programme strands.
Our staff will be pleased to assist you in identifying these programmes. For example, you will find here an overview of funding programmes that are particularly suitable for SMEs.
Are you planning a research or innovation project but don't have the funding yet? Turn your idea into reality and bring top Bavarian research to EU level! Contact our scientific officers for specific information on individual disciplines: