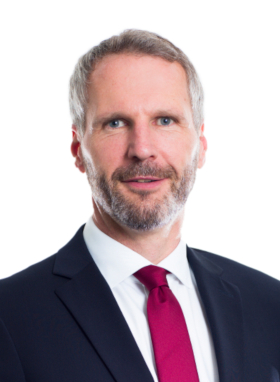 Ass. jur. Martin Reichel
On 1st October 2011, jurist and attorney-at-law Martin Reichel was appointed as a further Managing Director of BayFOR. After the retirement of Prof. Parlar, Martin Reichel is the only managing director since 1st April 2012 and responsible for the strategic development and positioning of the Bavarian Research Alliance as well as for all financial and human resources issues. A further focal point of his role includes the intensive dialogue with the other partners in the Bavarian Research and Innovation Agency, in order to make their joint service portfolio more visible to the outside world and to make the best possible use of existing synergies.
Short profile of Martin Reichel
Before joining BayFOR, Reichel worked for eleven years at the Helmholtz Centre Munich, latterly as an authorised signatory and member of the extended management team, as well as head of the Legal & Technology Transfer Department. His career has also enabled him to gain considerable experience in the fields of scientific management and research funding.

Martin Reichel studied law from 1992 to 1997 at the University of Tübingen and completed his legal training at the Ravensburg Regional Court with the Second State Examination. He subsequently worked as a attorney-at-law from 1999 to 2000 with a Munich-based law-firm focusing on company law and intellectual property protection. From 2000 to 2011, Martin Reichel worked at the Helmholtz Centre Munich, a member of the Helmholtz Association the largest scientific organization in Germany From 2003, he headed the legal department and was appointed authorised signatory, head of the Law & Technology Transfer department and Member of the extended management team in 2006. In 2009, he also took on the role of Founding Managing Director at the Deutsches Zentrum für Diabetesforschung e.V. Since 2010 he has been on the Foundation Council of the Stiftung AtemWeg.
Further information about Martin Reichel:
Contact
Secretary Ms. Bruckmeier:
Tel.: +49 89 9901888-0
E-mail: reichel@no-spam-pleasebayfor.org / bruckmeier@no-spam-pleasebayfor.org