Portrait of the Bavarian Research and Innovation Agency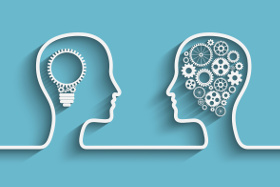 As a central point of contact, the Bavarian Research and Innovation Agency (formerly known as "Haus der Forschung" - House of Research) helps small and medium-sized companies and educational institutions acquire funding from the Free State of Bavaria, the German Federal Government and the EU and offers advice and support on all issues relating to technology transfer and patent exploitation.
Goals
The State Ministries' and partners' shared goal is to ensure close, trustful cooperation between all parties involved and successful coordination of all activities so that
The overall technology transfer system in Bavaria becomes more efficient and more transparent for scientists and businesses
It can provide comprehensive information about the funding available in the EU, Germany and the Free State of Bavaria
Bavarian applicants with little experience in the field of national and international cooperation and/or public research and innovation funding have access to an extensive range of advisory and support services
It can further develop its portfolio of qualified advisory services in the field of technology funding, in order to make sure that more innovations from Bavarian companies – particularly SMEs – make it onto the market
Bavarian organisations, especially universities and SMEs, have significantly better access to EU funding, particularly through the formation of consortia from the worlds of science and business with a higher chance of receiving funding from the EU
Usable findings / research results from Bavarian universities can be identified and quickly and effectively converted into applications.
To achieve this goal, the following five partner organisations that make up the Bavarian Research and Innovation Agency work together at their offices in Nuremberg and Munich: Bavarian Research Alliance (BayFOR), Bavarian Research Foundation (Bayerische Forschungsstiftung), Bayerische Patentallianz, Bayern Innovativ, Projekttraeger Bayern.
Services
We identify the funding programme that is optimally suited for your RDI project:
Information and advisory services on Bavarian, German and EU funding programmes
We act as a project administrator ourselves and we fund scientific and technological research ventures in Bavaria (individual projects, cooperation projects and research associations)
We assist you in project initiation and application submission:
Set-up of national and international research consortia
Bring together science and industry
Targeted search for cooperation partners, particularly at international level
Assistance with funding application drafting and contract preparation with the European Commission
We support you with the implementation of RDI projects:
Project management and dissemination of results
Management of funded network structures from industry and science
All the way from research results to the final product – our offer:
Presentation of your developments on our congresses and forums and on joint booths during high-tech trade shows
Information on patent law, financing and business start-up
Access to innovative technologies and advice on patenting and marketing your inventions