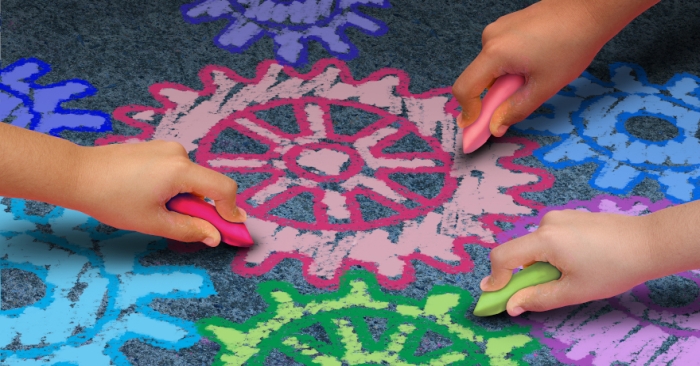 Description
Programme: Horizon 2020, ERC Consolidator Grant

Funding amount: EUR 2 million for Bavaria

Funding period: 10/2021–09/2026

Coordinator: Prof. Dr. Andrea Christina Felfe de Ormeño, University of Würzburg

Website: www.wiwi.uni-wuerzburg.de/kidsngroups​​​​​​​
EU project KIDSNGROUPS: Early origins of social cohesion in diverse societies
People decide very early in their lives which groups they feel they belong to and which they do not. However, the origins of this behaviour have not been deeply researched to date. The EU project KIDSNGROUPS will investigate how groupthink arises in childhood and what consequences it has for society and the economy.
Groupthink, i.e. favoring members of the own group and discriminating against members of other groups, puts social cohesion at risk, especially in times when society is becoming increasingly diverse. With her EU project KIDSNGROUPS, Prof. Felfe de Ormeño (University of Würzburg) will spend five years investigating the role of parents, schools, kindergartens and general socialisation processes in the development of groupthink and socially cohesive behavior.
Investigation of the group affiliation of several thousand children in Germany
Several thousands of children of preschool and primary school age living in Germany will be examined in cooperation with the German school and health authorities. The study's methods are computer-aided behavioural experiments that can be used to measure group affiliation and behaviour towards one's own and other groups. The influence of parents on the behaviour of their children is studied on the basis of various parameters, such as parental investments and parenting style. The findings of these analyses will ultimately result in political recommendations for political action.
Prof. Christina Felfe de Ormeño will receive two million euro from the 'ERC Consolidator Grant' for the project. With this, the European Research Council (ERC) promotes outstanding researchers whose previous work can be expected to lead to further excellence. Among other things, the EU project KIDSNGROUPS was prepared with funds from BayIntAn, the Bavarian funding programme for the initiation of international research cooperations, which is supported by BayFOR.
Prof. Felfe de Ormeño could use the funding to establish a cooperation with the University Pompeu Fabra in Spain to conduct a pilot study to elicit social preferences of children in selected Spanish schools. BayIntAn thus contributed to set the seeds for a successful application for an ERC Consolidator Grant.
BayFOR@Work
"BayFOR provided me with excellent support in preparing the application for the ERC Consolidator Grant. Writing an application like this requires experience, sufficient courage and some boldness to describe the uniqueness of the project and to highlight why you are the only one able to do it. This is precisely in what BayFOR encouraged and guided me."
Prof. Dr. Andrea Christina Felfe de Ormeño, University of Würzburg