UAS4EUROPE's Action Plan for Innovation in Europe - Handover to Commissioner Mariya Gabriel
11/10/2021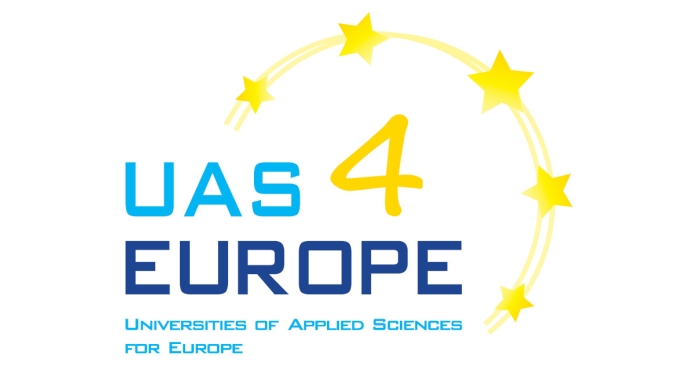 The authors of the Action Plan are members of an expert group composed of high-level UAS leaders with extensive innovation experience, providing concrete recommendations from the field of applied research to make the European Innovation Area (EIA) a reality. In particular, it includes recommendations on how to ensure European competitiveness in the next wave of technological innovation in a sustainable way. The full action plan with the twelve concrete recommendations for a renewed innovation agenda (starting on page 7) can be found here.
The event was hosted by the Permanent Representation of the Netherlands to the European Union and broadcast on the UAS4EUROPE YouTube channel. Due to the Corona measures, only a limited number of guests could attend on site. Around 40 R&I and industry representatives, as well as Commission and Council representatives, interacted with the speakers at the venue, while around 100 people followed the event online.
The Innovation Action Plan is part of Commissioner Gabriel's initiative for the new European Innovation Area (EIA), which, together with the European Education Area (EEA) and the European Research Area (ERA), will form a European knowledge triangle.
The European Commission sees UAS as important actors in regional innovation ecosystems and beyond, as they work closely with private and public sector representatives to find applicable solutions to concrete problems. Based on these particular characteristics, the European Commission commissioned the UAS4EUROPE network to develop an action plan for European innovation.
The recording of the event and the Action Plan for Innovation can be accessed on the UAS4EUROPE network website.
About UAS4EUROPE
UAS4EUROPE is a joint initiative of swissuniversities, Hochschule Bayern e.V., EURASHE, Danske Professionshøjskoler, Vereniging Hogescholen, ARENE, Hochschulen für Angewandte Wissenschaften Baden-Württemberg e.V., the Austrian Conference of Universities of Applied Sciences and Hochschulallianz für den Mittelstand. The network advocates for a strong position and greater visibility of universities of applied sciences in the European research landscape. UAS4EUROPE represents 2.3 million students and over 60,000 researchers at more than 450 universities from 24 European countries.
Contact at BayFOR
Tim Uebelen
BayFOR Representative / EU Liaison Office in Brussels & UAS4EUROPE Administrator
E-Mail: uebelen@no-spam-pleasebayfor.org