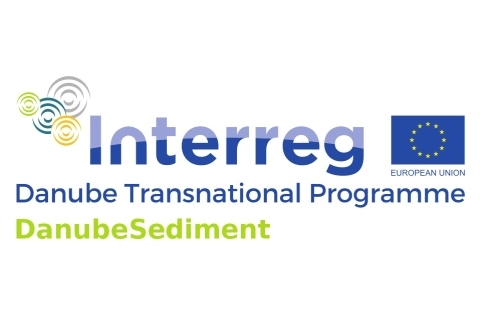 Description
Programme: Interreg VB – Danube Transnational Programme
Coordinator: Budapest University of Technology and Economics, Hungary
Funding amount: €3.56 million, of which €730,000 is allocated to Bavaria
Funding period: 01/2017-11/2019

EU Project DanubeSediment: How can we improve the sediment balance of the Danube?
The transport of sediments is a natural process in running waters. Sediments are particles suspended in the water and coarse material on the riverbed. During the past decades and centuries, river engineering measures have drastically changed the natural sediment dynamics in the Danube and its tributaries. These changes in sediment transport can have adverse effects on people and the environment. The European DanubeSediment project seeks to understand these changes and recommend measure to improve the sediment balance.
Changes in the sediment transport and deposition in the Danube has negative effects on inland shipping, hydropower production, flood control, and the overall ecological situation. This is precisely why the International Commission for the Protection of the Danube (ICPDR) called for a Danube-wide sediment management concept in its first and second International River Basin Management Plans (DRBMP) in 2009 and 2015.

With a budget of €3.56 million, fourteen partners from nine countries have been working together on the DanubeSediment project since 2017. Their goal is to close existing knowledge gaps on sediment transport in the Danube. To do so, the partners collect and analyse data on sediment, for example, where it comes from, where it is deposited and redistributed. With these results, the project partners will develop guidelines (Danube Sediment Management Guidance) with recommendations on how to handle sediment transport in the Danube in the future. These will be incorporated into the third international Danube River Basin Management Plan (DRBMP) and the second Danube Flood Risk Management Plan (DFRMP).

The Bavarian Environment Agency (LFU) handles the communication and stakeholder involvement in this project. The project is co-funded by the European Union as part of the Danube Transnational Programme (DTP) with investments from the European Regional Development Fund (ERDF) and the Instrument for Pre-Accession Assistance (IPA). The project results and recommendations are primarily intended for policy-makers and practitioners working in sediment and water management, for example navigation companies, administration, operators of hydropower plants and NGOs. These organisations are closely involved in the project, either directly as project partners or as participants at (inter)national workshops and events.
Comments on BayFOR's contribution:


"There are many project partners and stakeholders with various views and interests involved in the DanubeSediment project. During the strategic application phase, BayFOR provided expert advice and support concerning the establishment of a transnational partner structure and in the design of roles and duties of individual partners. BayFOR was also extremely helpful in formulating the application. Thank you, last but not least, for the very dedicated and pleasant manner of cooperation."

Michael Außendorf
Bavarian Environment Agency
Ref 12 Communication, Public Relation
86177 Augsburg
Tel: +49 821 9071 5223
michael.aussendorf@no-spam-pleaselfu.bayern.de