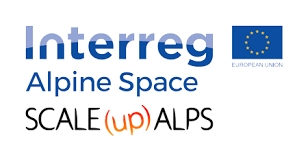 Description
Programme: Interreg Alpine Space Programme
Coordinator: Turin Chamber of Commerce, Italy
Funding amount: 1.7 million Euros, of which €215,000 is allocated to Bavaria
Funding period: 11/2016–07/2019
EU Project SCALE(up)ALPS: Better framework conditions for successful start-ups in the Alpine area
Although the Alpine area has highly innovative regions, it still lags far behind other European regions in terms of innovatory performance and competitiveness. The SCALE(up)ALPS project aims to change this and is helping particularly new, fast-growing and scalable start-ups (scale-ups) to develop.

Scale-ups make a significant contribution to employment growth in the Alpine area, yet only a few start-ups manage to turn into a scale-up. This is why a special ecosystem fostering the rapid growth of start-ups and SMEs is needed in this region. Material and financial resources are by no means everything. Even more important are talent scouting, a trained workforce, the development of managers and access to important markets. The main objectives of the SCALE(up)ALPS project are to promote SME growth in the Alpine area, to create new jobs and to establish the "Alpine area brand" as a synonym for innovation. The project aims to achieve these objectives via the following measures:
a cross-border dialogue at the political level and networking between the most important stakeholders from politics, industry, administration and research;
defining the framework conditions which can increase the number and quality of individual entrepreneurs and fast-growing, scalable SMEs;
preparing a feasibility study with recommendations for the growth of the start-up ecosystem and for closer cooperation between stakeholders from different fields;
developing and testing innovative public-private funding systems, bringing companies and capital together, attracting talents, creating access to new markets by increasing the innovative capacity of companies.
The SCALE(up)ALPS project aims to improve the conditions for new companies in these ways and is thus contributing to improving the innovative capacity and competitiveness of the Alpine economy. New, innovative services will be tested, which will enable new companies to gain a foothold in their business fields, to network and to find partners, investors and customers.

Eleven partners from the Alpine area are collaborating on SCALE(up)ALPS. As the only German partner in the consortium, UnternehmerTUM is responsible for involving stakeholders from Upper Bavaria. The project, which began its work in January 2017, is funded as part of the "Interreg Alpine Area Programme", the European transnational cooperation programme for the Alpine region.
Comments on BayFOR's contribution:

"Together with UnternehmerTUM, the leading center for innovation and business creation in Europe, BayFOR developed the strategic input for the application for SCALE(up)ALPS. In addition, BayFOR has taken on the role of an "observer" for the project. As part of the project, BayFOR led a workshop on talent acquisition and leadership development and discussed with the stakeholders in World Cafés how scale-ups can benefit from cooperation in the Alpine space and what support the Interreg programme can offer them."
Silvia Dell'Olio
UnternehmerTUM GmbH, Munich
Phone: +49 (0)89-18 94 69-1412
Email: dell-olio@no-spam-pleaseunternehmertum.de