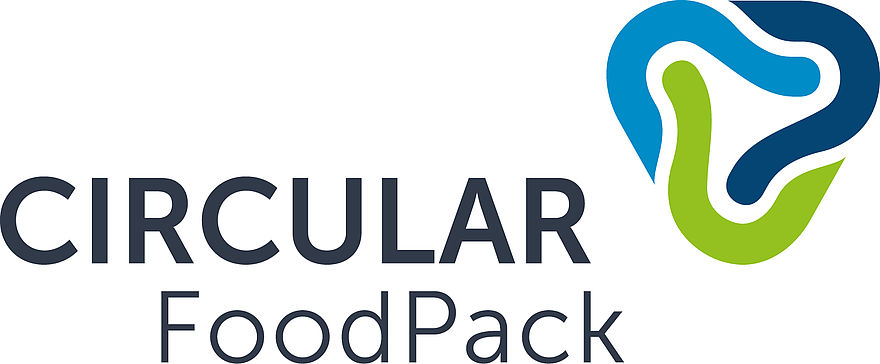 CIRCULAR FoodPack aims to facilitate the circular use of plastic packaging, addressing the most sensitive product category: Food packaging. This sector involves 87% of all European flexible plastic multi-layer composites (MLC) due to the high requirements for food preservation and safety. Depending on the packaged product, at least seven layers are combined in a single film. However, these MLC laminates cannot be recycled by state of the art processes and thus counteract the circular use of food packaging. Instead, most of these materials are disposed of in landfills or are incinerated to produce energy. One reason for this is that the reuse of recyclates in food packaging is restricted by EU legislation due to high requirements and threshold values for food packaging. Therefore, the circular use of plastic food packaging requires appropriate sorting or decontamination methods to ensure that the re-created flexible food packaging from post-consumer recyclates complies with all EU regulations.
Efficient sorting systems for food packaging
CIRCULAR FoodPack will further develop indispensable sorting systems that will, for the first time, efficiently separate non-food and food packaging waste to establish a circular value chain for polyethylene-based packaging. The tracer-based sorting identifies packaging via unique printed fluorescent tracers that emit a unique signal when passed through laser light and thus assign a material-specific sorting code.
Reducing contamination, colour and odour by cleaning recyclates
In addition, CIRCULAR FoodPack intends to clean and de-ink polyethylene packaging. A promising de-inking technology that can remove all types of inks and a deodorization that neutralizes odours will be scaled up in the existing mechanical recycling cascades. The cleaned material is then subjected to solvent-based recycling through the patented CreaSolv® Process1 to separate the different material components (e.g. fillers, additives and polyethylene). "These new approaches of sorting, deodorization and deinking in combination with novel recycling process cascades will boost the current quality level of recycled polymers to a high-purity grade that is necessary for highly demanding and sensitive packaging applications", says the project coordinator Dr Esra Kücükpinar-Niarchos of Fraunhofer IVV.
Packaging material with recyclable functional barrier solutions
According to current EU legislation, recyclate can be incorporated into films if it is set behind a functional barrier. This ensures that the migration of pollutants remains below the levels of concern during the lifetime of the packaged good. Therefore, CIRCULAR FoodPack does not only work on sorting and cleaning procedures but also addresses recyclable functional barrier solutions. The project aims at developing packaging material designed for recycling containing at least 50% post-consumer recyclates.
Holistic evaluation of all process steps and their effects
All newly developed process steps and (by-) products will be subjected to a comprehensive sustainability assessment. The entire life cycle is systematically considered in the process, taking into account ecological, economic, and social impacts. This makes it possible to prove the sustainability of the newly developed packaging compared to conventional multi-layer packaging. In addition, CIRCULAR FoodPack will identify suitable markets and material flows where the critical size for market introduction can be achieved and where the CIRCULAR FoodPack technologies create benefits for customers and consumers. A thorough study of consumer needs will accompany this. Gender aspects will also be taken into account to complete the holistic approach of CIRCULAR FoodPack and enable its application at larger scale.
Project overview
Project goals and fields of work
CIRCULAR FoodPack aims to facilitate the circular use of plastic packaging for the food product category. The challenge is that the reuse of recyclates in food packaging is restricted by EU legislation - undesirable substances must first be removed and compliance to threshold values guaranteed. One of the reasons is that, depending on the packaged good, at least seven layers are combined in a single film. Such multi-layer films cannot be reliably sorted and efficiently recycled according to the current state of the art. To overcome this challenge, CIRCULAR FoodPack is pursuing the following project goals and fields of work:
Further development of tracer-based sorting systems for the separation of non-food and food packaging waste (polyethylene). The aim is to equip the waste with material-specific sorting codes according to which it can be separated.
Purification of recyclates through de-inking technology (removal of colour) and deodorization (removal of odors) by up-scaling the existing mechanical recycling cascades and separating the material components through the CreaSolv® Process1.
Production of functional barrier solutions that reliably separate contaminants from packaged food. The aim is to develop packaging materials that contain at least 50% recycled content.
Sustainability assessment
Consumer study
Market launch
Target groups
The project results of CIRCULAR FoodPack are significant for brand owners of food, health and personal care products, for the pharmaceutical packaging industry and in general for packaging manufacturers, as well as for public and private waste management and recycling companies. Furthermore, the results are relevant for the scientific community, topic-related project clusters, regulatory authorities, supervisory authorities, and political decision-makers. Citizens benefit from the particularly sustainable process.
BayFOR as beneficiary/project partner
The Bavarian Research Alliance accompanied CIRCULAR FoodPack intensively from drafting the project proposal to the start of the project in June 2021. In close cooperation with the coordinator, BayFOR supported the consortium in the project's conceptualization, design and budgeting. It also assisted all partners with the necessary formalities and advised them on administrative matters. As a project partner, BayFOR takes over the financial and administrative project management and implements communication activities. The underlying goal is to make the activities and results of CIRCULAR FoodPack visible on an international level to stakeholders in the industry, research operations, the public sector, and the general public.
Funding
From June 2021 to November 2024, the research project will be funded by the EU with € 5.4 million (Horizon 2020, Call: H2020-SC5-2018-2019-2020) under grant agreement No. 101003806.
Consortium
Led by the Fraunhofer Institute for Process Engineering and Packaging IVV in Freising, the CIRCULAR FoodPack consortium consists of fifteen companies and research institutes from Germany, Belgium, France, Greece, the Netherlands, Spain and Switzerland.
Please find the list of all partners here.


Contact at BayFOR

1 CreaSolv® is a registered trademark of CreaCycle GmbH, Grevenbroich.