Africa Forum Bavaria 2022
17/10/2022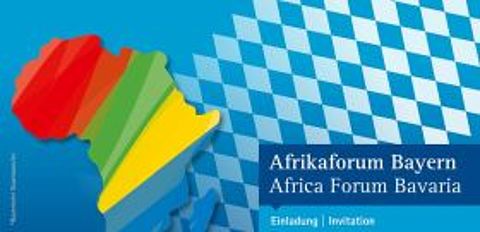 The Bavarian Chamber of Industry and Commerce, the German Chamber of Commerce Abroad in Africa and the Bavarian State Chancellery invite you to the "Africa Forum Bavaria". Among other things, you can expect thematic and country panels, impulse lectures as well as individual consulting opportunities. Not only will the economic development opportunities of individual markets be highlighted, but also the opportunities for cooperation between business, science and development work.
The forum will begin on October 17 with a welcoming address by Melanie Huml (MdL), Minister of State for European Affairs and International Affairs, and a presentation on "Networking between development cooperation and business as an opportunity". This will be followed by a first of five panels discussing "Cooperation opportunities between business and development cooperation in Africa".
October 18 will be the main part of the event. The day will begin with another welcome address and keynote speeches on "Market Opportunities for SMEs".
This will be followed by four panels on topics ranging from the "Impact of the Pan-African Free Trade Area" to "Financing and Hedging" and new trends of business opportunities with different regions of Africa.
In addition, representatives of the German Chambers of Commerce Abroad from North, East, West and Southern Africa will offer individual consultations on investment opportunities and risks, on initiating and conducting business, as well as on subsidies and on sales opportunities.

Event time
Monday, 17 October 2022
15:00h - 18:00 followed by an evening reception
Tuesday, 18 October 2022
8:30h - 16:00h, Africa lounge followed by get-together
11:30h - 18:00h, AHK Consultation Talks
Format
Face-to-face events with different venues in Augsburg.
Participation fee
Participation in the entire event is free of charge.
Venue
DAY 1: Monday, 17 October 2022
Augsburg City Hall |Golden Hall
Rathausplatz 1, 86150 Augsburg, Germany
DAY 2: Tuesday, 18 October 2022
IHK Schwaben
Stettenstraße 1+3, 86150 Augsburg, Germany
Registration
Register for the forum here.
Further Information
The agenda for the forum can be found here.
Contact
Anis Azouz
Chamber of Industry and Commerce Swabia
Phone: +49 83 82 9383 15
Email: Anis.Azouz@no-spam-pleaseschwaben.ihk.de
Contact at BayFOR
Dr Thomas Ammerl
Head of Unit Environment, Energy & Bioeconomy
Acting Head of WKS Bavaria-Africa
Phone: +49 89 9901 888-120
Email: ammerl@no-spam-pleasebayfor.org
Back to events