Cooperation Lounge Bavaria-Africa – Research and Innovation for Global Climate Action
23/11/2022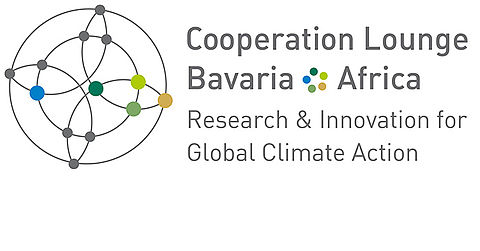 Addressing the climate crisis requires collective global action. Therefore, the event will gather mainly African and Bavarian, but also international stakeholders from academia, industry, civil society and the public sector who wish to cooperate on solutions for tackling the global climate crisis – with a specific focus on international research and innovation projects. The agenda covers the climate change-related topics mentioned below and offers an excellent opportunity to establish contacts and initiate projects via a platform for 1:1 virtual meetings between the participants. This platform will remain open until the end of 2022.
During the Cooperation Lounge, you will have the opportunity to:
hear about the latest key scientific initiatives in the following fields: climate adaptation and mitigation, water and wetlands, food security and safety, health and environment, renewable energies and hydrogen, circularity and digitization, earth observation and data, start-ups and entrepreneurship, research integrity and gender, as well as youth and global climate action
attend informative and interactive thematic breakout sessions (see above)
find new international partners for future cooperation, especially in research & innovation for global climate action;
extend your network by organising 1:1 meetings with international scientists and industry experts
enhance the visibility of your institution towards Bavarian African and international stakeholders in research & innovation;
learn about European funding opportunities for R&I projects in cooperation with African stakeholders, as well as about their national and regional implementation.
Event time
Wednesday and Thursday, 23 & 24 November 2022
With the possibility of 1:1 matchmaking meetings until the end of the year.
Format
The event will be held online via the b2match platform.
Agenda
The preliminary agenda can be found here.
Language
The event will be held in English.
Participation fee
The event is free of charge.
Registration
Please register for the online event here: https://cooperation-lounge-bavaria-africa.b2match.io/signup
For your registration, you will need to create a profile at the online platform. The completion of a qualified, detailed profile on this online platform is a requirement for participation. An early registration is strongly recommended so that you are visible on the platform as soon as possible. This early visibility, as well as a profile describing your activities in the field of research and innovation for global climate action, enhance your chances of being contacted by suitable meeting partners. Once activated, your profile will be visible for other activated participants. From then on, you will be able to contact other participants for 1:1 meetings. Organising 1:1 meetings is optional, but you will need to create a profile for participating in the online event.
Please note that there is only a limited number of places available for this event. In the interest of all participants, the organizers will endeavour to bring together a group of international participants with completed profiles. Therefore, if necessary, the organizers reserve the right not to consider some individual registrations.
Deadline for registration is 18 November 2022.
Contact at BayFOR:
Dr. Thomas Ammerl
Acting Head of Unit Scientific Coordination Office Bavaria-Africa
Head of Unit Environment, Energy & Bioeconomy
Phone: +49 89 9901888-120
Email: ammerl@no-spam-pleasebayfor.org
Natalia García Mozo
Head of Unit SME Advisory Services
Phone: +49 89 9901888-171
Email: mozo@no-spam-pleasebayfor.org
M. A. Susanne Reichenbach
Scientific Coordinator Scientific Coordination Office Bavaria-Africa
Phone: +49 89 9901 888-127
Email: reichenbach@no-spam-pleasebayfor.org
Back to events