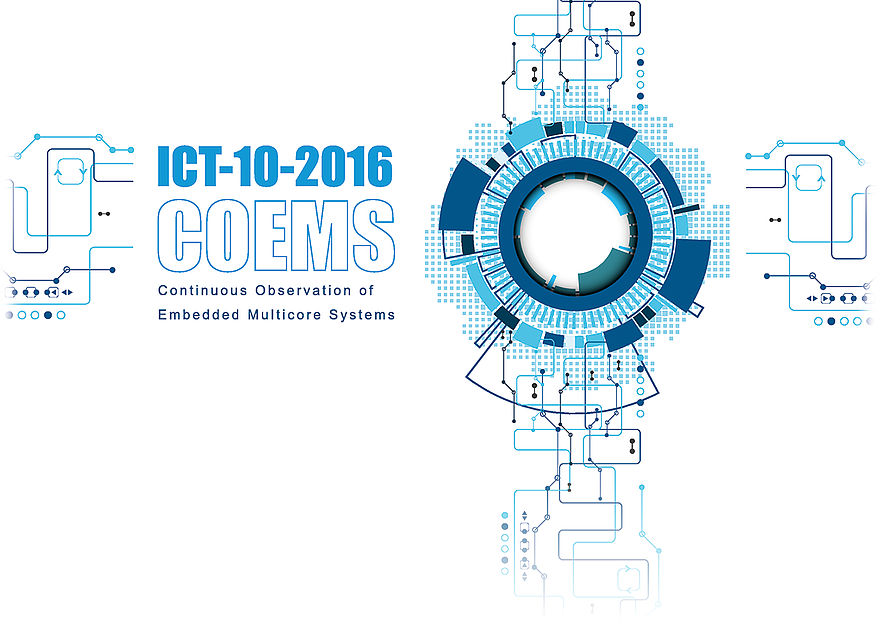 Description
Programme: Horizon 2020, Information and Communication Technologies (LEIT)
Period: 11/2016-10/2019
Funding amount: €4 million, of which €1.5 million for Bavaria
Coordinator: University of Lübeck
Project ID: 732016
Website: www.coems.eu
Tracing software errors in microcontrollers
One of the most critical points in the development of embedded systems with multi-core microcontrollers is the testing and troubleshooting phase. Since there are many applications running in parallel, this is much more difficult than with the systems used in the past.
In the EU project COEMS (Continuous Observation of Embedded Multicore Systems), an international team is developing a monitoring process that does not affect the current application and allows observation for any length of time. Software tests, troubleshooting and optimisation can thus be carried out more efficiently and effectively.
At a time when software applications are becoming more complex and safety-critical, such as autonomous driving or the "Internet of Things", where different applications communicate with one another, powerful multi-core microcontrollers are gaining importance – they regulate and control the individual devices. The process of testing, troubleshooting and optimising these systems is a significant part of the development process, typically accounting for around 50 % of the overall effort. With many processes running in parallel, so-called race situations are increasingly liable to occur, leading to sporadic system malfunctions that can be extremely difficult to reproduce.
To track down such problems and improve the testing process generally, the COEMS project is developing an analytical system which is able to observe parallel processes in embedded systems automatically and for any length of time. A novel feature of this development is that the test does not interfere with or in any way affect ongoing processes.
The consortium is composed of six partners from science and industry, including two major companies which are planning to use the new platform. On the Bavarian side, start-up company Accemic Technologies GmbH (technical management, development of hardware components) and Airbus are involved. Other project partners include Thales Austria GmbH, SC Thales Systems Romania SRL, the University of Lübeck (project coordinator) and Western Norway University of Applied Sciences.
Comment on BayFOR's contribution:

"The Bavarian Research Alliance gave us intensive, competent and committed support during the process of applying for this Horizon 2020 project, and were crucial in enabling us to prevail against a large number of European competitors. We owe a special debt of gratitude to BayFOR's scientific officers."

Dr. Alexander Weiss
CEO Accemic Technologies GmbH, Kiefersfelden
COEMS Project partner
Phone: +49 (0)8033 9709164
E-mail: aweiss@no-spam-pleaseaccemic.com