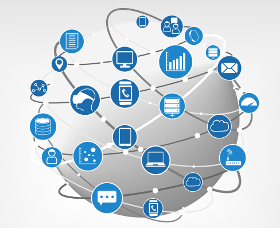 Description
Programme: Horizon 2020, SME instrument
Period: 2015
Funding amount: €50,000 for Bavaria
Coordinator: Andreas Foglar, InnoRoute GmbH
Smart network technology for the Internet of Things
You get into your self-driving car wearing a smartwatch while your home security system adjusts the surveillance cameras – our world is becoming increasingly connected. Manufacturing industry, too, has been busy for some time now exploiting the potential of the "Internet of Things". However, increased connectivity poses numerous challenges for hardware and software.
New, innovative routing technology from Munich-based InnoRoute GmbH will soon be used in the B2B segment as well. The company received funding from the European Commission to prepare for market launch. During the application process, InnoRoute got professional support from BayFOR.
Routing is the transfer of information packets in a network. Conventional routers do not evaluate the information they transfer, but simply pass it on to smaller distributors (switches) for further processing without assessing it. But in a world where many smart objects communicate with one another, this system is no longer adequate – intelligent decisions also need to be made at router level. The technology developed by InnoRoute allows exactly that. To conduct a feasibility study, the company received €50,000 from the European Commission over a six-month period in 2015. The funding for this scheme under the project name "TrustNode" (A disruptive router platform for the Internet of Things) was granted under the EU programme "SME Instrument Phase 1" and mainly involved preparing a business plan and carrying out the underlying analyses. The "SME Instrument" programme allows project applications to be submitted on fixed dates, usually two per year. It is open to companies that meet the EU definition of SMEs, that is to say, companies with fewer than 250 employees and either annual turnover not exceeding €50 million or a balance sheet total no greater than €43 million. The level of interest is very high, so there was good reason to obtain professional assistance when preparing the application.
Advice on the SME instrument
Comment on BayFOR's contribution

"BayFOR's experts impressed me both with their in-depth technical expertise regarding networks and the internet and with their knowledge of the processes involved in the EU's SME Instrument programme. Thanks to their support we won the contract for the Phase 1 project."
Andreas Foglar
CEO
InnoRoute GmbH
TrustNode Coordination
Phone: +49 (0) 89 452419901
E-mail: foglar@no-spam-pleaseinnoroute.de