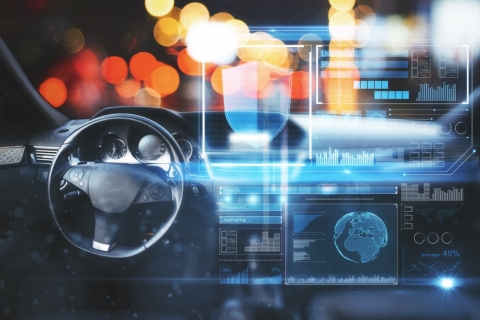 Description
Programme: Horizon 2020, ICT
Funding amount: €5 million, of which €656,000 is for Bavaria
Funding period: 10/2019–03/2022
Coordinator: Dr Pouria Sayyad Khodashenas, I2CAT, Spain
Website: www.h2020caramel.eu

EU project CARAMEL: Intelligent cybersecurity for connected and automated vehicles
Modern autonomous vehicle technology is becoming increasingly advanced through connectivity and Artificial Intelligence. At the same time, cybersecurity is becoming more important in this area. Cyber attacks on autonomous vehicles can, in the worst case, cost lives. The EU CARAMEL project develops cybersecurity solutions for the latest generation of vehicles.
Research on possible effects of cyber attacks
The negative impact of cyber attacks on an industry such as Cooperative Connected and Automated Mobility (CCAM) can be enormous. Malicious manipulation of sensors on autonomous and connected vehicles is a threat to human life. Besides it can cause major material damage, lead to traffic congestion and chaos, or ruin the reputation of the vehicle manufacturer. Using Artificial Intelligence (AI) and Machine Learning (ML), the EU-funded CARAMEL project develops cybersecurity solutions for the latest generation of vehicles: autonomous vehicles, 5G vehicles and electric vehicles. To do this, the project is looking for weak points and evaluating the potential impact of cyber attacks, as well as demonstrating extensive potential attack scenarios.
Protection against hackers
Across the entire automotive manufacturing supply chain, including electric vehicle charging, CARAMEL aims to develop innovative hacking detection and prevention systems for the European automotive industry. Over a period of two and a half years, a total of 15 partners from eight EU countries are working together to develop innovative cybersecurity solutions for vehicles, including six large industrial companies, three research and technology organisations and six SMEs. Project coordinator is the Spanish I2CAT technology and innovation centre. ALTRAN Deutschland S.A.S & Co KG, the global leader in engineering and R&D services, is the Bavarian consortium partner.
Comments on BayFOR's contribution:

"BayFOR has provided us with competent and fast support during the application process. This included both the structuring and formulation of the application document and the critical analysis of the topic and text. This was particularly helpful as Horizon 2020 applications have to comply with a great many unwritten 'laws' and background knowledge about Brussels' research policy is needed. In addition, the BayFOR team is very well connected and can provide international partners and sources of information. BayFOR has thereby made a clear contribution to our success in a highly competitive research programme."

Dr Daniel Fulger
Altran GmbH
Email: daniel.fulger@no-spam-pleasealtran.com


Dipl.-Ing Robert Iberl
Scientific Officer Information & Communication Technologies |
Engineering & Natural Sciences
Phone: +49 89 9901888-131
Email: iberl@no-spam-pleasebayfor.org