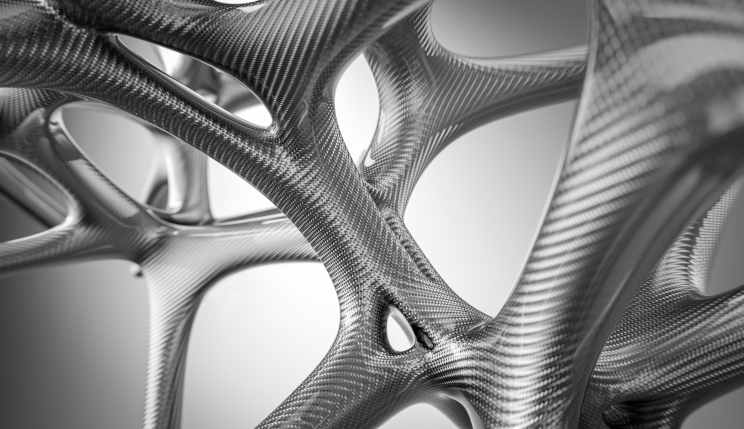 Description
Programme: Horizon 2020
Funding amount: EUR 6 million, of which EUR 2 million for Bavaria
Funding period: 01/2021-12/2024
Coordinator: Dr Christian Eitzinger, PROFACTOR GmbH, Austria
Project number: 101006732
Website: www.drapebot.eu



Efficient human-robot "draping" collaboration for the manufacturing industry
Lightweight, stable and safe – these are the requirements for materials in aerospace, automotive manufacturing and shipbuilding. Carbon fibre-reinforced plastics (CFRP) are therefore on trend in lightweight construction as they meet precisely these requirements. However, their production has not yet been fully automated, making it expensive. The EU project DrapeBot aims to revolutionise the "Draping" manufacturing process by developing an agile and efficient human-robot cooperation.

Carbon fibre-reinforced plastics (CFRP) are industrially manufactured fibres made of material containing plastic, that, despite their extremely high strength, are over fifty per cent lighter than steel and over thirty percent lighter than aluminium. The process of draping is used In the manufacture of carbon fibre composite parts, among others. In this process, soft and flexible carbon fibre patches are draped layer by layer onto a 3D mould until the required thickness is achieved. Many automobile structures and almost all ship structures are created in this way. In the aerospace industry, thirty per cent of composite parts are manufactured in this way. Currently, most of the draping is done manually. Only five per cent of composite parts for the aerospace industry are manufactured in an automated draping process.
The biggest technical challenge is the low tolerance values
Although robotic draping has made significant progress in terms of large material surfaces and accuracy, it is still limited by large sizes, varying shapes or sharp curvatures of the material. The biggest technical challenge when draping is that the original material is flat (2D) and must be placed on a 3D mould. The tolerance thresholds are small: Deviations of millimetres and degrees in corners and the risk of distortion of the fabric caused by tensions in the material when stretched or deformed already present challenges in production. A human-robot collaboration is possible here: the precision work that the robot does not complete is finished off by humans.

The DrapeBot project develops two pilot systems in which people and intelligent robots work cooperatively. The system at the project coordinator Profactor GmbH is intended for use in automotive manufacturing and shipbuilding. The second system at the German Aerospace Centre (DLR) is intended to produce aircraft parts. Both systems involve the interaction between humans and robots in all work steps. These include material delivery, draping of the blanks, implementation of quality assurance measures and documentation of the process, among others. The user-friendliness and trusting relationship between humans and intelligent robots are also part of the research project. In this case, trust means that humans can be assured that the robot will not injure them during the work process.
Networking events as key to project success
The project came about in November 2019 as a result of the "Danish-Bavarian Workshop on Robotics/ICT in Horizon 2020" jointly organised and run by BayFOR and the INNOVATION CENTRE DENMARK. The connection made at this workshop resulted in contact between the German Aerospace Centre (DLR) and Prof. Matthias Rehm of Aalborg University Denmark, who is responsible for the aspects of user-friendliness and trust in the project.
"I participated in the workshop to raise awareness of our expertise and to start networking as we are still a very new institution. We wanted to join a large consortium in order to actually make a difference. It was quite interesting because both the German partners and the Danish partners were there and it was possible to talk to them in person. It was interesting and completely new for me to see what BayFOR does in terms of project support and what possibilities there are," says Prof. Rehm.
"I didn't know the people I'm working with on the project before, but I met a former student of mine at the workshop who worked at the German Aerospace Centre (DLR). Through him, I came into contact with the DLR. One month after the workshop, Profactor, the coordinator of the project, contacted me after the DLR had suggested us as a partner for the human-robot interaction task. It was precisely our expertise that was still lacking in the project, so we got involved."
For Prof. Rehm, such networking and brokerage events are largely decisive for whether a project comes together or not.
"The setup of the pitch event was ideal. First, there was a general information session, then people had the opportunity to introduce themselves and their project ideas. Finally, the pauses were a catalyst for networking. In the end, it comes down to personal relationships and mutual trust when setting up a large consortium. "
The EU is providing a funding of EUR 6 million to this Horizon 2020 project. Of this amount, EUR 2 million are received by the Bavarian partner DLR, whom BayFOR supported with the application process.
Are you also interested in participating in a BayFOR networking or brokerage event in order to find exciting international partners for your research project such as under the new Horizon Europe framework programme? Then please follow us on LinkedIn and Twitter – where we will keep you informed of future events. You can also find these on our events page.

Dr Marcin Malecha
The German Aerospace Centre (DLR)
Centre for Lightweight Production Technology Augsburg
Phone.: +49 821 319874-1036
Email: marcin.malecha@no-spam-pleasedlr.de

Dipl.-Wirt.-Ing. Dan Gutu
Scientific Officer Information & Communication Technologies |
Engineering & Natural Sciences
Phone: +49 89 9901888-136
Email: gutu@no-spam-pleasebayfor.org