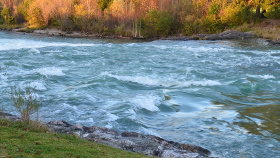 Description
Programme: Horizon 2020, Low-Carbon Energy (SC3)
Funding amount: €7.2 million, of which €1.5 million for Bavaria
Period: 11/2016-10/2020
Coordinator: Prof. Dr. Peter Rutschmann; Chair of Hydraulic and Water Resources Engineering, Technical University of Munich
Website: www.fithydro.eu
Fish-friendly innovative technologies for hydropower
Hydroelectric power has great potential as a renewable energy source and is a real alternative to fossil fuels: it is highly efficient and reliable, cheap and financially profitable, causes minimal carbon emissions and has the necessary technical maturity and a long life cycle.
Hydropower currently accounts for 18 % of the electricity generated across Europe, but its potential has not been fully utilised. Many of Europe's hydroelectric plants have been in operation for many decades and no longer meet current standards. They also restrict passage flow and pose a significant threat to fish, as they can easily get into the turbines. Hence there is an urgent need to modernise these power plants.
The goal of the FIThydro (Fish-friendly Innovative Technologies for Hydropower) project is to undertake further development of this method of electricity generation. The 26 project partners are working on low-cost, environmentally friendly and innovative technologies for the operation of hydroelectric plants in order to generate more energy from water power. Special attention is being paid to the protection of fish populations. For example, mechanisms are being developed to reduce mortality rates of fish passing through the turbines.
Input for the Management section
Budget calculation
Proofreading
Intensive support for grant preparation
Close cooperation with TUM ForTe
Comment on BayFOR's contribution:

"BayFOR gave us very good advice during the project application phase and relieved our administrative workload so we could focus on the technical aspects. Collecting the various necessary documents from all 26 partners was a gigantic task, but they did it all for us. BayFOR were one of the main reasons why our application received a glowing assessment from the reviewers and was finally approved."
Prof. Dr. Peter Rutschmann
Chair of Hydraulic and Water Resources Engineering
Technical University of Munich
FIThydro Coordinator
Phone: +49 (0)89 289-23161
E-mail: peter.rutschmann@no-spam-pleasetum.de