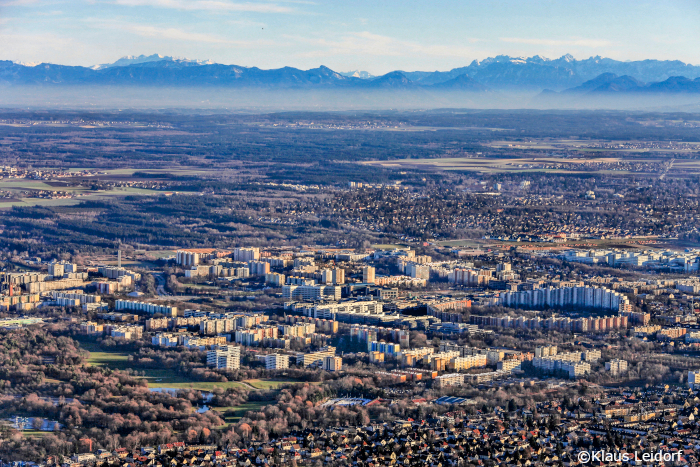 EU project NEBourhoods – Creating NEBourhoods Together. Munich-Neuperlach as a test field for urban innovation landscapes
With the EU project NEBourhoods, the City of Munich aims to transform the Neuperlach district into a resilient urban innovation landscape and thus herald the future of modern urban renewal and development in the spirit of the New European Bauhaus.
With a population of around 65,000, the Neuperlach district of Munich is the largest post-war urban expansion area in Germany. With a portfolio of buildings and open spaces in need of renovation, Neuperlach has similar conditions and challenges to those of many satellite cities located in metropolitan areas as well as in European small and medium-sized cities, such as above-average unemployment, a lower level of education or a high proportion of migrant residents. Neuperlach also has numerous advantages, such as extensive green spaces and large residential and office buildings from which something new can be created.
The transformation of Munich-Neuperlach into a "city of the future" is due to take place by integrating ten actions in the sense of the New European Bauhaus, i.e.: beautiful – sustainable – together.
These sub-projects cover a wide range of areas of urban development and coexistence. The topics range from energy saving and sustainability, the interaction between people and nature to areas such as nutrition, cultural freedom and mobility infrastructure:
Animal-aided design: Integration of wildlife into open space planning

Systematic design of ecosystems that take into account the needs of humans, plants, animals and beneficial microbes.

Extending renewable energy production from buildings to public space

Establishing a circular economy

Visual redesign of large residential complexes from the 60s and 70s

Creating climate and energy active building casings

Redesign and refurbishment of privately owned office buildings

Research on mobility infrastructure

Integration and linking of the topics of nutrition and greening

Creating cultural places for young people
NEBourhoods aims to make a significant contribution to the objectives of the New European Bauhaus and the EU Green Deal. Further synergies result from Munich's successful promotion as one of the "100 climate-neutral cities by 2030".
"They will show what the future can look like and bring the European Green Deal into our daily lives and our living spaces. These projects will become the starting point for a European and global network of New European Bauhaus projects," said EU Commission President Ursula von der Leyen.
NEBourhoods is one of 6 demonstration lighthouse projects across Europe selected by the New European Bauhaus. Further information about the projects can be found here and here.
The New European Bauhaus (NEB)
The New European Bauhaus (NEB) aims to create a bridge between art, culture and education and science and technology. Horizon Europe, the EU's current framework programme for research and innovation, has a key role to play in driving new ideas, prototypes and products, as research and innovation are essential elements of the design, implementation and dissemination of the NEB. The call for tenders, to which the NEBourhoods consortium had applied, was one of the 'missions' of Horizon Europe's 2021-2022 work programme. Further information can be found here.
Project objectives
The objectives of the project "Creating NEBourhoods Together" include the transformation of Neuperlach, the development of a modern, climate-neutral and sustainable urban renewal concept as the "city of the future" in the sense of the European Green Deal and the New European Bauhaus and should serve as a positive example for other European cities.
Target groups
NEBourhoods consortium partners' projects are implemented by means of innovative and creative methods: The design processes involve local people and stakeholders and are implemented together with cultural and creative professionals. The promotion of entrepreneurial thinking and actions, especially among population groups that have not yet had access to these, will support a sustainable transformation.
NEBourhoods aims to support different areas of urban development, from circular construction to green spaces and nutrition, and from renewable energy to youth culture in public spaces.
BayFOR as a partner
During the application phase, BayFOR supported the coordinator and the consortium in the technical and content-related conceptual design of the EU application as well as in clarifying financial and administrative issues. As a funded partner in NEBourhoods, BayFOR supports and accompanies project management and communication with interested expert groups.
Funding period
This project is being funded with around EUR 5 million by the European Union from October 2022 to the end of March 2025 as part of the Horizon Europe research and innovation programme under grant agreement number 101080052.
Consortium
Seventeen German partners are working together on the project, coordinated by the City of Munich:
Coordination: City of Munich

Project partners:
Associated partners:
In cooperation with:

Dr. Daniel Kießling
Scientific Officer Information & Communication Technologies |
Engineering & Natural Sciences
Phone: +49 911 50715-920
Email: kiessling@no-spam-pleasebayfor.org