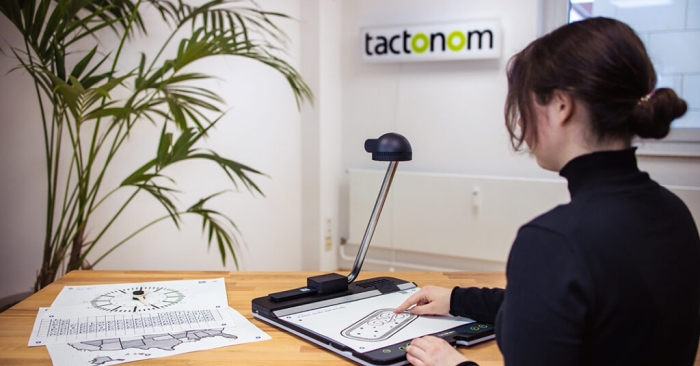 Description
Programme: H2020, EIC Accelerator pilot
Funding amount: EUR 3.12 million
Funding period: 04/2021 to 09/2023
Coordinator: Dr. Alexander Hars and Klaus-Peter Hars, Inventivio GmbH
Project number: 968187
Internet: www.tactonom.com
Tactonom makes digital content accessible for blind people
More than 2.6 million people in Europe are blind (26.5 million are visually impaired). They are often disadvantaged and under-represented in education and employment, as well as in terms of mobility and social inclusion. It is precisely in the field of digitization that blind people still cannot sufficiently participate because a lot of information is not accessible on the current output devices. The EU project Tactonom wants to change this and is receiving EUR 3.12 million in funding from the EU's EIC Accelerator programme.

75 per cent of blind people in Europe are unemployed (source: RNIB) because most jobs are not accessible. Access to graphic content such as tables, statistics, city maps or websites is also not given because this information is not yet accessible with the existing output devices.
World's first interactive technology that makes digital content accessible
Within six years, Inventivio GmbH has developed the world's first interactive technology that makes it possible for visually impaired people to access any information without the need for external assistance. The Tactonom – a name which comes from the words 'tactile' and 'autonomy' – is a device whose DIN A4 touchpad converts digital content into Braille or – and this is the innovation – tactile graphics. For this purpose, over 10,000 small metal balls are controlled by electromagnets and positioned on top of each other in one of two chambers. If you swipe your finger over it, you can feel shapes and characters using the protruding beads in the upper chamber. Thanks to the large tactile matrix with over 10,500 tactile dots, the blind user can read texts and graphics with their fingertips.
The Tactonom is scheduled to be launched in Europe at the end of 2022
Because the Tactonom software is freely available, programmers can develop additional custom applications for the device. The Tactonom is expected to be launched in Europe at the end of 2022 and will also be significantly cheaper per touchpoint than displays that are already available and cannot display graphics.

With the Tactonom, Inventivio aims to help improve the quality of life and integration of blind people in Europe and provide them with access to a digital workplace.
BayFOR@Work
Intensive application support;
Preparation of the pitch and interview before the jury in Brussels;
Key account management during the course of the project for the placement of a business coach;
Support measures aimed at the growth and internationalisation of the company.
Video about Tactonom Reader Fabi