BayFIA at MedtecLIVE with T4M 2023
23/05/2023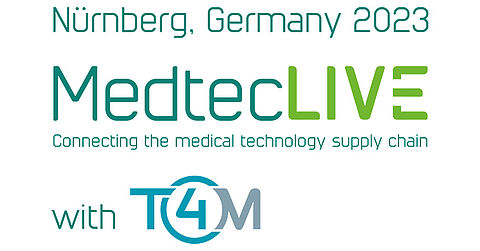 MedtecLIVE with T4M is the European exhibition for medical technology and thus an important guide for decision-makers from medical technology manufacturers. The medical technology exhibition brings together solution- and future-oriented thinkers who exhibit innovative processes in the manufacture of the latest medical technology. In addition to current processes, components, materials and services from the entire value chain, the focus is on personal networking.
Partner Country Ireland
This year's MedtecLIVE with T4M has Ireland as partner country. Ireland is not only considered the world's largest exporter of contact lenses or stents. Of the ten largest medtech companies in the world, nine have branches on the island. "We are very pleased to network with Irish suppliers and look forward to offering this highly interesting market a platform for the first time as the event's partner country," says Christopher Boss, Executive Director MedtecLIVE at NürnbergMesse. "The market is not only fascinating for suppliers and manufacturers, Ireland is now also considered a sought-after destination for investors in the healthcare industry."
BayFIA at the joint stand of Bayern Innovativ
The Bavarian Research and Innovation Agency (BayFIA) will be presenting itself at MedtecLIVE with T4M at the Bavarian joint stand of its partner Bayern Innovativ. The stand is located in Hall 1, Stand 359, where you will have the opportunity to get to know BayFIA's entire range of services - all support services for your research and innovation project, from the initial idea to the finished product. BayFOR will provide advice on EU funding for research and innovation in the field of medical technology.
Further highlights of MedtecLIVE with T4M
In addition to the exhibition, the international MedtecSUMMIT Congress will also take place. The lecture programme includes practically relevant and scientific contributions on the trend topics of digitalisation, artificial intelligence, robotics as well as sustainability and regulation. Furthermore, the IndustrialSUMMIT offers insights into the latest developments and technologies in the field of medical technology production (manufacturing, regulatory, construction and electronics). A separate start-up area is available for start-ups. Finally, to mention just a few highlights, a special area shows the importance of IT in medical technology.
Event time
Tuesday, 23 May 2023, from 9 a.m. to 5 p.m.
Wednesday, 24 May 2023, from 9 a.m. to 5 p.m.
Thursday, 25 May 2023, from 9 a.m. to 4 p.m.
Venue
NürnbergMesse
Exhibition Centre
90471 Nuremberg
Shared stand Bayern Innovativ with Bavarian Research and Innovation Agency in Hall 1 Stand 359.
Tickets
Here you can get your ticket for the exhibition MectecLIVE with T4M. The day ticket costs 49 euros, the permanent ticket 99 euros and the digital ticket 99 euros.
Further information
Further information about the exhibition is available here.
Contact at BayFOR
Haleh Mohajerani
Event management
Phone: +49 (0)89 9901888-107
E-mail: mohajerani@bayfor.org
Back to events