BayFOR at the International Sustainable Economy Forum (ISEF)
27/06/2022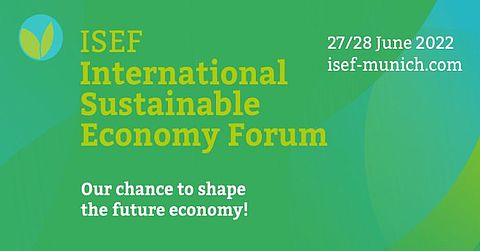 The International Sustainable Economy Forum (ISEF) is the first event of its kind to bring together stakeholders from all facets of industrial sustainability regardless of raw materials, methods applied and products.
This year's ISEF represents the inaugural event in a recurring series of events dedicated to approaches, challenges and solutions for a sustainable economy. As network organizations, IBB Netzwerk GmbH and Chemie-Cluster Bayern GmbH bring together companies that want to jointly tackle the challenges of climate change and economic transformation.
At its booth, BayFOR will give insight into projects that address different thematic fields covered by ISEF, for example circularity or sustainable mobility. One of these projects is the CBE JU-funded project LIGNOFLAG. The aim of LIGNOFLAG is the construction of a first-of-its-kind commercial scale plant for the production of cellulosic ethanol from agricultural residues, an advanced, truly sustainable biofuel which contributes to a climate-neutral Europe based on circularity. BayFOR is a project partner in LIGNOFLAG.
Event time
27th – 28th June 2022, 9:00-17:00 hrs (CEST)
Venue
Haus der bayerischen Wirtschaft
Max-Joseph-Str. 5
80333 München
Agenda
The agenda of the forum can be found here.
Language of the event
English
Participation fee
Information on participation fee can be found here.
Contact at BayFOR
Dr Thomas Ammerl
Head of Unit Environment, Energy, Bioeconomy
Phone: +49 89 9901888-120
E-mail: ammerl@no-spam-pleasebayfor.org
Back to events