BayFOR at the Battery Innovation Days 2023
14/11/2023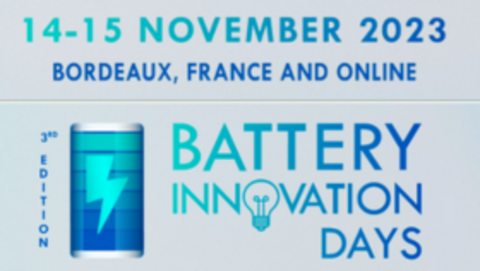 The "Battery Innovation Days" hybrid event is organized by the primary European research and innovation initiatives in the battery field, including Batteries Europe, Battery 2030+, and the Batteries European Partnership Association. These organizations are working in cooperation with the 1st and 2nd IPCEI (Important Project of Common European Interest) for batteries.
Aims of the event
The event is dedicated to batteries, which are crucial for developing technologies that will enable the EU to achieve its zero-emissions targets. Scientists, policymakers, industry representatives, and end-users will have an exciting dialogue for two days to promote battery research and innovation in Europe. The BID aims to expand knowledge and foster exchange on cutting-edge technologies in battery materials, cell design, manufacturing, and recycling.
What can you expect of the event?
Stay updated on the latest battery trends and technologies.

Meet industry leaders and gain insights into the sector at regional and European levels.

Participate in the presentation of the "

Battery Young Research Award

" for academic excellence in battery research.

Expand your network through numerous networking opportunities.
BayFOR at the Battery Innovation Days 2023
BayFOR will have its own booth at the Battery Innovation Days 2023. Interested visitors can gain insights into BayFOR's services and the EU-funded projects that were created with BayFOR's support:
Hyflow

– The best of two systems: Development of a new hybrid energy storage system

Twinvector

– Pooling European competence in the development of world-class next-generation batteries

RECYLIB

– Reducing batteries' environmental footprint
Our aim is to help Bavarian players expand their network and reach out to international partners. We achieve this by collaborating with potential partners from all over Europe during high-level events like the Battery Innovation Days. This way, we bring the expertise of Bavaria to the world and vice versa. If you happen to be in Bordeaux, we would be delighted to welcome you!
More information on the event
Click here for more more information on the "Battery Innovation Days 2023".
Agenda
You can access the Agenda by clicking on this link.
Date & Time
Tuesday, 14 November 2023 at 9:30 am - Wednesday, 15 November 2023 at 6:30 Uhr (CEST)
Type of the event
On-site: Centre de Congrès Cité Mondiale, Parvis des Chartrons, Bordeaux, France
und online.
Registration & Prices
Click here for an overview of the conditions of participation.
Contact at BayFOR
Dr Panteleïmon Panagiotou
Head of Unit
ICT | Engineering & Natural Sciences
Email: panagiotou@bayfor.org
Dr Daniel Kiessling
Scientific Officer
ICT | Engineering & Natural Sciences
Email: kiessling@no-spam-pleasebayfor.org
Back to events