BE @SMM2020 – Brokerage Event @Smart Manufacturing Matchmaking 2020 – Virtual Edition
18/11/2020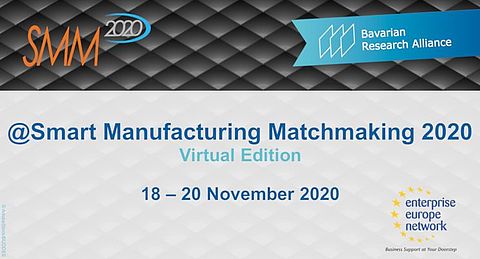 During the brokerage event, you will virtually meet scientists, researchers and company managers who are working in the area of smart manufacturing and industry 4.0. in order to exchange your initial ideas and experiences for a possible EU-funded project. It is also an important opportunity to stay updated on the latest matching advanced technologies, innovation demand from institutions and cities, new applications from SMEs, and technical challenges faced by large companies.
The objective of the virtual brokerage event is to generate innovation and foster collaborative projects and transnational cooperation. Companies, research organisations and clusters will have the opportunity to promote innovative offers or products linked to smart manufacturing and industry 4.0, find technical solutions and expertise, identify relevant partners or suppliers and build technology, research and business cooperation.

The event consists of bilateral B2B online meetings for matchmaking. The focus is on the following topics:
Digital Twin
Industrial Internet of Things
Applications of Virtual/Augmented/Mixed Reality in Industry
Big data Analytics
Cyber Physical Systems
Simulation
Autonomous Robot
AI & Machine Learning for Industrial applications
Additive Manufacturing
Cyber security and Cloud
Human Machine interfaces
Human to Machine cooperation
Predictive Maintenance
System integration
Autonomous production
Do you need support?
The Bavarian Research Alliance (BayFOR) will support you during the preparation and follow-up of the event. We can help you find new international partners for your project in the fields of research, development and innovation, and we can assist you with follow-up activities after the event.
In addition, we also provide information on European and national funding opportunities in the above-mentioned fields. Furthermore, we will show you how we can support you in applying for (EU) funding and in implementing (EU-)funded projects.
Date and time
Wednesday, 18 November 2020 – Friday, 20 November 2020
A detailed schedule of the sessions can be found here.
Registration and participation
Please, register here for the virtual brokerage event. The event is free of charge. Registration is open until 19 November 2020.

Personalized profiles describing your expertise or cooperation partner search requests are required for participation. The individual cooperation profiles of the participants will be published in an online catalogue. The language of the event is English.
Further information
Please find further information on the event here.
BayFOR contact
Dipl.-Wirt.-Ing. Dan Gutu
Scientific Officer
Unit Information & Communication Technologies | Engineering & Natural Sciences
Phone: +49 89 9901 888-136
E-mail: gutu@no-spam-pleasebayfor.org
Back to events