Canada – Germany Industrial AI Solutions
09/06/2020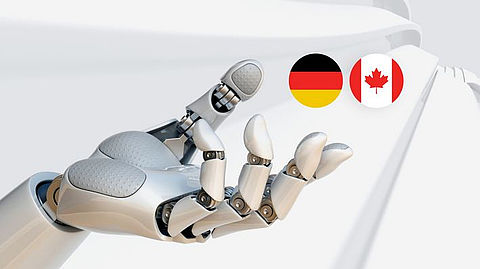 Digital technologies are indispensable in the development and production in today's industry. To remain competitive, innovative solutions have to be found.
The initiators of this partnering event, the governments of Canada and Germany (BMBF, NRC, NRC IRAP & NRC National Program Office), would like to encourage key players from science and industry to jointly tackle this challenge by using new Artificial Intelligence (AI) solutions.
What can you expect as a participant?
The virtual information and matchmaking event is primarily intended to open up a space for applicants to find and get to know potential project partners and to present their project ideas (pitch presentations).
Top-class keynote speakers also provide insights into the structure and registration process for the upcoming bilateral call.
Topics
The value of collaborative R&D projects between Canadian and German organizations
Call for proposals overview, structure and submission process
Interest in AI solutions for industrial productions
Government program support for collaborative R&D projects
Format of the event
Online-Event
Pitch presentations
Submission deadline is Monday, June 8, 2020, before 3:00 p.m. / Germany and before 11:00 a.m. / Canada
Email to: IRAP.International.Forms-Formulaires.international.PARI@nrc-cnrc.gc.ca
Attention please! The presentations must be submitted using a Power Point template: https://can-deu-industrial-ai-solutions.b2match.io/
Date & time
Tuesday June 9, 2020
3:45 p.m. - 6:30 p.m. in Germany and 9:45 a.m. - 12:30 p.m. in Canada
Registration


Further Information – Germany 3+2 collaborative call for proposals on Innovative Artificial Intelligence Solutions for Industrial Production

- Canadian funding announcement

- German funding announcement

- German Federal Ministry of Education & Research - BMBF

- General information about working with Canada
Contact at BayFOR
Natalia García Mozo
Head of Unit for SME Advisory Services
Phone: +49 (0)89 9901 888-171
E-mail: mozo@no-spam-pleasebayfor.org
Back to events