EDIH Twister Vol. I
11/05/2023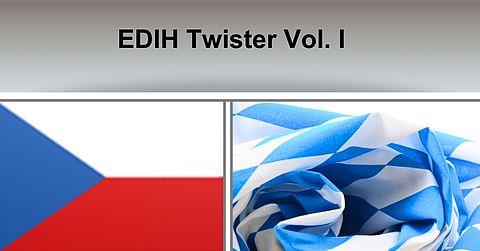 European Digital Innovation Hubs (EDIHs) are one-stop shops that help businesses and public sector organisations respond to digital challenges and become more competitive. Many EDIHs include organisations that are part of the EEN or European Industrial Clusters. EDIHs should build strong links with other networks, including EEN, European Industrial Clusters and Start-up Europe, to provide a seamless service to SMEs within local and regional ecosystems.
The networking event EDIH Twister Vol. I informs Bavarian and Czech SMEs about EDIHs, other networks and their services in the field of digital transformation. In its presentation, the Bavarian Research Alliance will describe how it successfully supported an EDIH in applying for EU funding. This EDIH, the European Digital Innovation Hub "Ostbayern – Grenzenlos Digital " (EDIH-OGD), is a network of partner institutions that addresses the innovation needs of this region at the Bavarian-Czech border, which is of particular importance for the companies in the region. This EDIH takes up one of the many "white spots" in Europe and transforms this cross-border region into a digital innovation region.
Event time
Thursday, 11 May 2023, from 10:00 till 15:00 hrs
Venue
South Bohemian Science and Technology Park Ceské Budejovice, Czech Republic (more information about the venue will be provided with the registration.)
Language
The event will be simultaneously translated into Czech and German.
Registration and agenda
You will find the registration and the agenda of the event here.
Contact at BayFOR
Dipl.-Wirt.-Ing. Dan Gutu
Scientific Officer
Information and Communication Technology / Space
Phone: +49 89 9901888-136
E-mail: gutu@no-spam-pleasebayfor.org
Back to events