EUSEW Energy Days: A gender lens on energy poverty
20/09/2022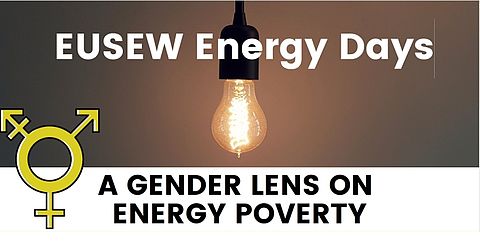 Millions of people in the European Union are affected by energy poverty - with women and marginalised groups being disproportionately affected. This is not only exacerbated by the current energy market crisis, but also when gender inequality is compounded by age, class and race.

The combination of rising energy, transport and food prices increases the risk of fuel poverty. This is because it can lead to a worsening of gender inequalities, as energy poverty among women can be related to their physiological and health situation as well as to their economic and social status.

All these dimensions - especially when combined - put women at higher risk of energy poverty. It is therefore important to take a closer look at the relationship between energy poverty and gender in order to discuss solutions for a gender-equitable energy transition.
Event time
Tuesday, 20 September 2022 to Thursday, 15:00 - 16:30
Venue
Online via Zoom
Event language
English
Agenda
The agenda of the event and further information can be found here.
Registration
Please register here.
Contact at BayFOR
M. A. Susanne Hirschmann
Scientific Officer Environment, Energy & Bioeconomy
Phone: +49 89 9901888-125
E-mail: hirschmann@no-spam-pleasebayfor.org
Back to events