Latin American and Caribbean Days 2021 (LAC Days 2021)
23/04/2021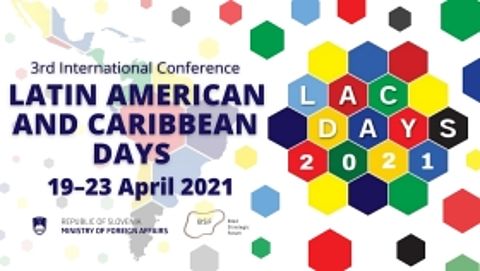 The LAC Days also foster mutual understanding and cooperation among businesses, institutions and public from both sides. The conference will be divided in several parts addressing economic, sector specific (environment & science), and cultural issues.
This year, the traditional high-level panel "Opportunities of the EU-LAC Cooperation", devoted to bilateral and bi regional cooperation and the collaboration in international organizations and joint initiatives, will be adapted to the circumstances of pandemic.
Economic discussions will focus on existing opportunities and offer an insight into possible cooperation between Slovenia and LAC countries (i.e. presentation of business environment, opportunities and the companies with interest and/or experience in the region) as well as explore possible synergies between Slovenian and LAC business partners.
In sector-specific panels, the possibilities of cooperation in facing environmental challenges of common concern, especially in sustainable water management, and in other areas of science and research will be discussed – with particular focus on green transition and digital transformation, cooperation between research institutions and researchers from Slovenia and LAC countries as well as the EU and LAC, including the possible role of European programmes (e.g. Horizon Europe).
Date and time
Friday, 23 April 2021 from 4:00 to 6.30 p.m. (CET)
A detailed schedule can be found here.
Registration and participation
Please, register here for the event.
The language of the event is English.
Participation at the Forum discussions is by invitation only.

The BayFOR lecture is open to all even without an invitation
Contact at BayFOR
Dr Thomas Ammerl
Head of Unit Environment, Energy & Bioeconomy
Prinzregentenstr. 52, 80538 Munich
Phone: +49 (0)89 9901888-120
E-mail: ammerl@no-spam-pleasebayfor.org
Twitter: @BayFOR_UEB
Back to events