Online conference "Linking Science and Industry: Renewable Energy Research, Innovation and Higher Education in Africa"
15/12/2021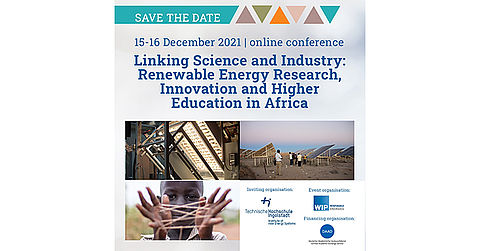 African countries like Kenya have an abundance of renewable energy resources. As a result, the demand for qualified professionals has been increasing for years. Particularly in the field of renewable energies, specialists with practice-oriented degrees are needed.
On the first day, after the welcome, the event will start with an introduction on the status quo, challenges and opportunities of renewable energy in Africa. Afterwards, best practice projects will be presented. After a round table on higher education capacity building, 4 breakout sessions will take place: R&I for commercial and industrial sector, R&I for transport and mobility, R&I on rural electrification and R&I on household energy.
On the second day, the welcome will be followed by a summary of the breakout sessions. Afterwards, pilot and demonstration projects in the field of renewable energies in Africa will be presented. After a roundtable on research and innovation in the field of renewable energies in Africa and the presentation of a database system, BayFOR will give a presentation on "How to fund research and innovation cooperation between Bavaria and Africa". Bavaria is very concerned about and supports cooperation with Africa, and not least the EU enables funding for projects with Africa. BayFOR will show funding opportunities and also provide information on the support it can provide for an application.
Throughout the event there will be slots where you can take a virtual tour of a poster exhibition and also of the laboratory of Technische Hochschule Ingolstadt. BayFORs Scientific Coordination Office Bavaria-Africa will also be part of this virtual exhibition.
Event Time: 15 December, 9:00 am to 2:15 pm (CET), and 16 December 2021, 9:00 am to 1:15 pm (CET). The BayFOR lecture will take place on the second day from 12 noon (CET), followed by a discussion hosted by BayFOR, Zoom room title: "Funding opportunities: needs and challenges".
Format: Online
Agenda: The preliminary agenda of the event can be found here.
Registration: Please register here.
Language: The event will be held in English.
Participation fee: The event is free of charge.
Contact at Technische Hochschule Ingolstadt:
Maria Graßl-Frömel
Institute of new Energy-Systems (InES)
Phone: +49 841 9348-6438
Fax: +49 841 9348-996438
E-mail: Maria.Grassl-Froemel@no-spam-pleasethi.de
Internet: www.thi.de/go/energy
Contact at BayFOR:
Dr Thomas Ammerl
Acting Head of Scientific Coordination Office Bavaria-Africa
Phone: +49 89 9901888-120
E-mail: ammerl@no-spam-pleasebayfor.org
M. Sc. Melanie Schulte
Scientific Officer Scientific Coordination Office Bavaria-Africa
Phone: +49 89 9901 888-124
E-mail: schulte@no-spam-pleasebayfor.org
Back to events