Online workshop: EIC Accelerator: the new application process
27/07/2023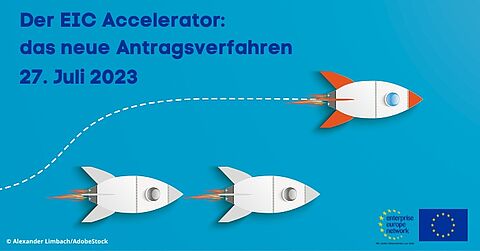 With funding of up to €2.5 million (and the possibility of European Investment Bank participation), the EIC Accelerator supports the further development and global commercialisation of breakthrough technologies, making it a very interesting EU funding programme for highly innovative small and medium-sized enterprises (SMEs).
The EU Commission has recently simplified the EIC Accelerator application process.
In our free online workshop on 27 July 2023, we will introduce you to the new application process, give you practical tips for optimal application preparation, share the experience of a successful Bavarian start-up and give you the opportunity to clarify individual questions with our experts.
The workshop will bring you in contact with experts from the National Contact Point and BayFOR, a successful applicant and a business coach, thus creating a unique opportunity for networking and learning from experienced professionals.
The event is for participants with and without prior knowledge of the EIC Accelerator.
Event time
Thursday, 27 July 2023, 09:00 am – 12:00 am
Format
The event will be held online.
Agenda
The agenda for the workshop can be found here.
Registration
The registration link can be found here. Attendance is free of charge. Deadline for registration is 24 July 2023.
Only the confirmation of participation entitles you to attend the event.
Event language
Mainly in German. One presentation will be in English.
Contact at the BayFOR
Natalia García Mozo
Head of unit SME Advisory Services
Phone: +49 89 9901888-171
Email: mozo@no-spam-pleasebayfor.org
Back to events