Virtual Energy Day – Breaking out of the bubble: why gender-just energy communities speed up the energy transition (and sustainable development overall)
25/06/2020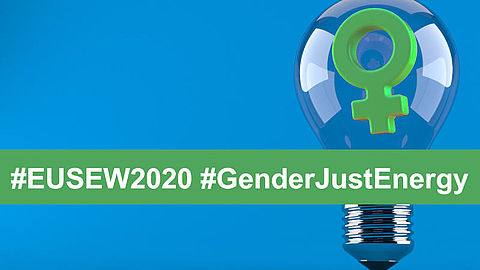 A 1.5°C pathway demands a sweeping transformation of our society, an enormous step-change in investment in the global energy system, a dramatic decline in reliance on fossil fuels and a collective effort to accelerate the growth of renewable energy. And it needs high social acceptance for available technologies and approaches.
This means: the energy transition requires all resources we have.
Given the tremendous task ahead, there is a simple reason why the energy transition must be gender-just: it is the only way to achieve it. Perspectives and know-how of all stakeholders are required. We are now on the tail end of the warmest five-year period ever recorded and urgently require better international collaboration, innovative solutions and business models, ambitious policy design and broad participation of the civil society. But progress will be slower without addressing women's needs and increasing women's participation on all levels in the renewable energy sector.
In this interactive session the needs and benefits of a gender equal energy transition are showcased, best practice cases and approaches are discussed. It will be shown how gender mainstreaming will unlock the high potential for decentralised structures and the energy transition overall.
The Virtual Energy Day is an event within the EU Sustainable Energy Week (EUSEW). The digital activities and events are organised by local public and private organisations across Europe to promote clean energy and energy efficiency within EUSEW and are entitled Energy Days. They are a key component of the EUSEW.
Agenda of the Virtual Energy Day
13:00 hrs: Welcoming, BayFOR and WECF
13:15 hrs: Gender in research and innovation for a clean energy transition, Katrin Moegele, BayFOR
13:30 hrs: EU Gender equality strategy 2020-2025, Dr Anke Stock, WECF
13:45 hrs: Women as energy entrepreneurs, Agnes Mirembe, ARUWE
14:05 hrs: Women Self-Help Groups (SHGs) for Energy Transformation, Dr Roshni Udyavar Yehuda, RU&A
14:25 hrs: Decentralized and gender-just energy concepts, Katharina Habersbrunner, WECF
14:45 hrs: Questions & Answers
15:00 hrs: End of the webinar
Date
25 June 2020, 13:00 to 15:00 CEST
Venue
The event will take place online. For the technical requirements please click here. You will get further information about the procedure with the participation confirmation.
Registration
Please register here. The registration has been extended until 24 June.
Participation fee
The event is free of charge.
Further information
Please find more information about EUSEW and the Energy days here.
Contact in BayFOR
Dr Thomas Ammerl
Head of unit Environment, Energy & Bioeconomy
Phone: +49 (0)89 9901888-120
E-mail: ammerl@no-spam-pleasebayfor.org
Twitter: @BayFOR_UEB
Back to events