Workshop MSCA Doctoral Networks and Twinning: Advanced Materials & Processes and Artificial Intelligence for Sustainability
22/03/2023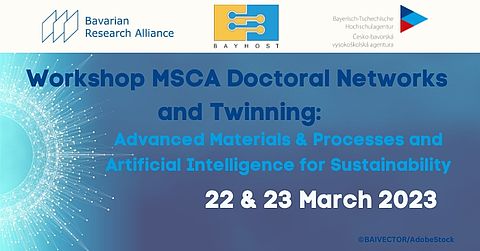 The workshop is especially aimed at scientists and companies from Bavaria, the Czech Republic, Slovakia and Slovenia who are interested in forming or joining a consortium for an EU application in the MSCA Doctoral Networks and/or Twinning Programme in the research area of new materials and processes as well as artificial intelligence. Furthermore, scientists from other EU countries and countries associated with Horizon Europe are also welcome.
During the workshop, BayFOR will provide comprehensive advice on EU research and innovation funding and in particular on the EU funding instruments Doctoral Networks and Twinning, and will help you with the application process and the search for suitable project partners.
In addition to an introduction to the funding programmes, good practice examples will also be presented at the workshop. Participants are invited to give pitch talks on their research topics that they would like to bring into a consortium. At the end of the workshop, you can exchange ideas with the other participants, network and make arrangements for a joint EU application.
BayFOR is also prepared to advise consortia on proposal preparation after the event and to supervise follow-up meetings if Bavarian participants are included in the consortium or are being sought.
Event time
Wednesday, 22 March 2023, 13:00-20:00
Thursday, 23 March 2023, 9:00-13:00 hrs
Venue
University of Regensburg
University Street 31
93053 Regensburg
Lecture hall H 13, Building RWH, Faculty of Economic Sciences
Registration
The event is free of charge. Please register here.
When registering online, you can apply for free accommodation and travel grants provided by BAYHOST and the BTHA.
Agenda
Please find the agenda here.
Contact at BayFOR
Dr Panteleïmon Panagiotou
Head of Unit ICT | Engineering & Natural Science
Phone: +49 (0)89-9901-888-130
Email: panagiotou@no-spam-pleasebayfor.org
Back to events